After 0 sacks first 5 games, Quinn has 5 sacks last 3 games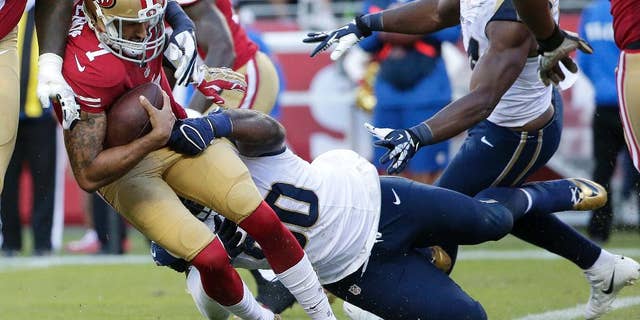 ST. LOUIS – Robert Quinn is back to harassing quarterbacks. This week, he'll try to keep the Cardinals' Carson Palmer from sitting in the pocket.
The St. Louis Rams mustered just one sack, by rookie Aaron Donald, in the first five games. In the last three games, they've piled up 14 and Quinn has six of them along with three forced fumbles.
Quinn predicted this surge a few weeks back when he was sack-less.
"You've got to stay committed," Quinn said in an interview with The Associated Press. "Of course, it gets frustrating when you're not getting back there, but there's nothing you can do except continue to work your craft.
"Finally, finally, things are breaking loose for us."
The Rams expect to be awarded a sixth sack for Quinn, who stripped Chiefs quarterback Alex Smith for a short loss two weeks ago. Officials misjudged where the ball went out of bounds.
The Cardinals (7-1) have the NFL's best record and they've taken good care of Palmer, allowing 13 sacks on the year. Palmer isn't a threat to run, but gets the ball out fast.
"We don't have to worry about him killing us with 50-yarders," Quinn said. "But just because that's not his forte doesn't mean he can't do it.
"You've just got to get him down."
Palmer called the Rams' defense "a dark horse in our division."
"They do a ton," Palmer said. "They can just rush the passer with four and wreak havoc, very well-disciplined. Every possible coverage you can think of, they show."
Quinn set a franchise record with an NFC-leading 19 sacks last year and earned a four-year, $65.5 million contract extension before Week 2. Before the defensive surge that carried St. Louis (3-5) in victories over NFC West powers Seattle and San Francisco, he'd settled for almost-but-not-quite statistics like quarterback pressures and hits.
The Rams had a season-high eight sacks last week, with William Hayes getting his first two of the year. Even minus Chris Long, sidelined with an ankle injury in the opener and on injured reserve-designated for return, the pass rush was supposed to be a strength.
Two tackles, Kendall Langford and Donald, got big push early on the 49ers quarterback sneak at the 1 in the closing seconds that resulted in a lost fumble by Colin Kaepernick and a surprise happy ending for St. Louis.
"Kendall knocked the center back and I shot the gap," Donald said. "He never got a clean snap. He got there a little faster than me."
St. Louis was third in the NFL with 53 sacks last season and Hayes, the stand-in for Long, is the only line mainstay that wasn't a first-round pick or premium free agent. Once dead last in sacks, the push has the Rams climbing the charts in a tie for 22nd and dangerous once again.
"It's fun," Donald said. "Everybody's making plays."
Cardinals coach Bruce Arians never doubted defensive coordinator Gregg Williams' system would click in St. Louis.
"I didn't have to wait for them to wake up to know how good they are," Arians said in a conference call with St. Louis media. "You can see his footprint all over that thing now."
Eight players were on the injury report Wednesday, down five from this time last week when the Rams toned things down and held a walkthrough instead of a practice to preserve bodies.
Seven players did not practice, five of them starters. Cornerback Janoris Jenkins (knee) was in that group but did some running early and could make it back after missing two games.
Others not participating were Hayes (fibula), linebacker Jo-Lonn Dunbar (toe), cornerbacks Marcus Roberson (ankle) and E.J. Gaines (knee), safety Rodney McLeod (knee) and tight end Cory Harkey (knee). Safety Cody (concussion symptoms) was limited.
___
AP NFL website: www.pro32.ap.org and www.twitter.com/AP_NFL