AFC North Stock Market: Week 6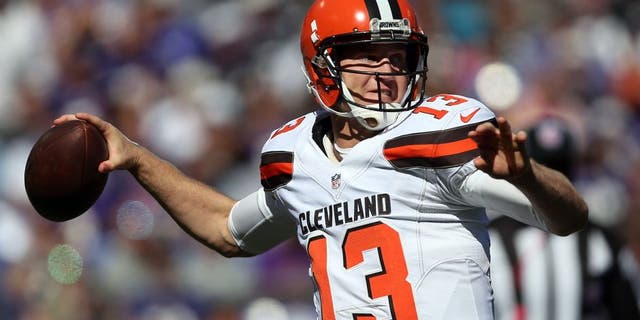 NEWYou can now listen to Fox News articles!
The NFL regular season is more volatile on a week-to-week basis than the Stock Market. One team that lost by several touchdowns the week before can follow up with a blowout victory. Players who are responsible for the blame one week could be responsible for a game-winning play the next.
With Week 5 of the regular season in the books, let's take a look at three AFC North players who saw their stock rise, and three others from the division who saw it fall as we head into Week 6.
THREE UP
Cam Heyward, defensive end, Pittsburgh Steelers
Heyward makes his second straight appearance as a riser on this list. Pro Football Focus awarded Heyward a league-high grade of +9.8 in Monday night's win over the Chargers after he recorded 11 quarterback pressures on Philip Rivers. Heyward scored a +7.5 last week, leading PFF to call him the hottest player in the league over the last two games.
Josh McCown, quarterback, Cleveland Browns
McCown set a Browns regular season record with his 457 passing yards against the Ravens on Sunday. He also became the first Brown to pass for 300 yards in three straight games and hasn't thrown an interception in 92 pass attempts. His seven total touchdowns over the last three games have quieted the chants of Johnny Manziel, for now.
Eugene Monroe, left tackle, Baltimore Ravens
Monroe returned to the lineup with a vengeance after missing three full games and almost all of Week 1 with a concussion suffered on the opening drive of the season. He allowed just one quarterback hurry of Joe Flacco in 38 dropbacks, according to Pro Football Focus. He was even better as a run blocker, helping Justin Forsett to 121 yards on 21 carries. While Monroe's presence didn't translate into a win, it was sorely needed to help protect Flacco's blind side.
THREE DOWN
Joe Haden, cornerback, Cleveland Browns
Believe it or not, Haden is rated by Pro Football Focus as Cleveland's worst performer in pass coverage among its six corners that have seen the field this season -- even including Justin Gilbert. Add in the growing list of health issues over the last few weeks, and Haden's ability to help this Browns team in the short term is on the decline.
Jimmy Smith, cornerback, Baltimore Ravens
Smith got paid like a top-level corner this past offseason, but he hasn't been performing like one. Smith has delivered underwhelming performances in coverage over the last three games, beginning with A.J. Green's monster game in Week 3 and ending with McCown's big day on Sunday. The lack of a pass rush isn't helping, but Smith needs to find a way to raise his game to a level commmensurate with his paycheck.
C.J. Mosley, linebacker, Baltimore Ravens
Mosley looked human in defending the run game against Cleveland on Sunday, recording a career-low two tackles. Mosley was assessed a -4.1 grade from PFF, his lowest since entering the league last season. He wasn't much better against the pass, allowing seven completions for 103 yards in coverage and hurrying McCown just once as a pass rusher, according to PFF.