AFC East Stock Market: Week 6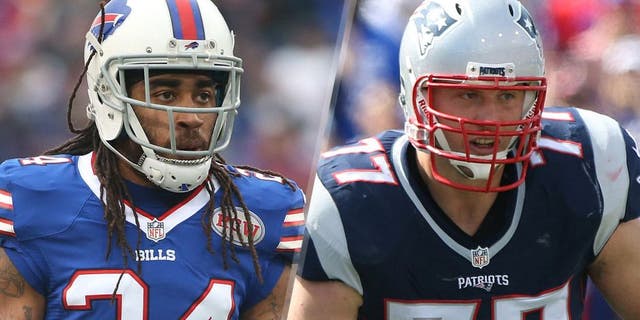 NEWYou can now listen to Fox News articles!
The NFL regular season is more volatile on a week-to-week basis than the Stock Market. A team that lost by several touchdowns the week before can follow up with a blowout victory. Players who are responsible for the blame one week could be responsible for a game-winning play the next.
With Week 5 of the regular season in the books, let's take a look at three AFC East players who saw their stock rise, and three AFC East players who saw it fall as we look ahead to Week 6.
THREE UP
Stephon Gilmore, cornerback, Buffalo Bills
The Bills were forced to lean on their defense in their 14-13 win over the Tennessee Titans on Sunday, given the fact that they were without LeSean McCoy, Karlos Williams, and Sammy Watkins. Stephon Gilmore was a big part of the defense's success as he played lights-out in Week 5. According to Pro Football Focus, Gilmore allowed just two catches for 20 yards on six targets. He also added an interception and allowed a 4.2 passer rating when the ball was thrown his way. He is evovling into the type of cornerback that Rex Ryan likes to leave on an island without safety coverage over the top.
Jamie Collins, outside linebacker, New England Patriots
Jamie Collins doesn't get a ton of attention on the New England Patriots' defense, but he's one heck of a player. Against the Dallas Cowboys, Collins racked up 10 tackles, one for a loss, and a forced fumble and was consistently all over the field. He's a guy that can line up in coverage or rush the passer, giving Bill Belichick a versatile weapon to play with on defense. He's certainly on his way to the Pro Bowl this season.
Dion Lewis, running back, New England Patriots
Dion Lewis continues to make plays for the Patriots, and he does it with flare. Against the Cowboys on Sunday, Lewis only carried the ball six times for 34 yards, but he caught a team-high eight passes for 59 yards -- one of which went for an incredible touchdown filled with jukes and missed tackles. He's not going to be a high-volume running back, but he can certainly be a reliable target in the passing game, similar to Darren Sproles.
THREE DOWN
Nate Solder, left tackle, New England Patriots
The first quarter was somewhat of a mess for New England's offense, mainly due to the amount of pressure the Cowboys were able to put on Tom Brady. Greg Hardy consistently beat Nate Solder to get hits on Brady, leading to some frustration from the quarterback. Solder left the game in the second quarter due to an elbow injury, but he looked off in pass protection from the start of the game.
Denarius Moore, wide receiver, Buffalo Bills
The Bills signed Denarius Moore to take over as the team's primary return man, but it didn't exactly work out in his first game with the team. Moore fumbled a punt in Buffalo territory, which ultimately led to a Titans touchdown. If he's unable to avoid mistakes such as that one, he'll be taken off punt return duties in short order, and could be cut because of it.
Percy Harvin, wide receiver, Buffalo Bills
Replacing Sammy Watkins is no easy task, but Percy Harvin was relatively absent in Sunday's game. Harvin was held without a catch for the first time this season and ran the ball just once for a loss of a yard. The Bills needed Harvin to step up with Watkins out, but he did just the opposite and didn't provide any help to Tyrod Taylor.
MORE NEWS: Want stories delivered to you? Sign up for our NFL newsletters.