Adrian Peterson smoked marijuana while on bond, prosecutors say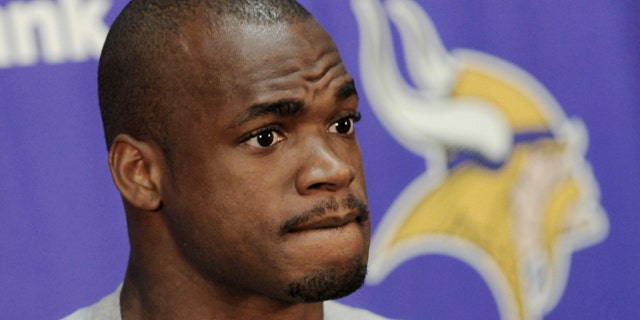 HOUSTON – Minnesota Vikings star Adrian Peterson should be arrested anew after admitting during his court appearance on a child abuse charge that he had "smoked a little weed" while out on bond, Texas prosecutors said Thursday.
In a court motion, the Montgomery County District Attorney's Office said Peterson allegedly told a worker conducting his urinalysis exam during a Wednesday court appearance that he had smoked marijuana. Bond terms typically include not taking any illegal drugs.
"In light of this statement, and the fact that it was made during the urinalysis testing process, and the term 'weed' is a common slang term for marijuana, the state argues that the defendant has smoked marijuana while on bond," the district attorney's office wrote.
Peterson is currently free on a $15,000 bond after he was indicted last month on a felony charge of injury to a child for using a wooden switch to discipline his 4-year-old son earlier this year in suburban Houston. Petersonhas said he never intended to harm his son and was only disciplining him in the same way he had been as a child growing up in East Texas. He faces up to two years in prison and a $10,000 fine if convicted.
Peterson is on paid leave from the Vikings under a special exemption from the NFL commissioner until the legal case is resolved. Vikings coach Mike Zimmer said he had no comment when asked about it after Thursday's practice.
In an email, Phil Grant, the first assistant district attorney for Montgomery County, said no action on the motion will be taken until the resolution of a separate motion seeking the recusal of state District Judge Kelly Case, who is presiding over Peterson's case.
Prosecutors are accusing Case of bias for calling the lead attorney for each side a "media whore" and for various legal disagreements Case and the district attorney's office have had in recent years. Grant said a hearing on whether to remove Case has not yet been scheduled.
Mary Flood, a spokeswoman for Rusty Hardin, Peterson's attorney, wrote in an email that the motion to revokePeterson's bond "will come up only when we know which judge will hear the case and then the defense will respond."
During Peterson's first court appearance, Case had set a tentative trial date of Dec. 1. But he added that might not hold if he is removed from the case.
Peterson did not enter a plea during the hearing, but Hardin has said his client intends to plead not guilty.