Adrian Peterson: I hope Calvin Johnson doesn't retire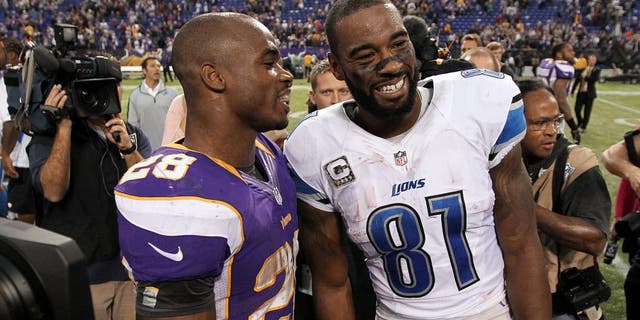 NEWYou can now listen to Fox News articles!
Minnesota Vikings running back Adrian Peterson should be glad to get a leg up on one of his rivals, but that's not how he feels when discussing the potential retirement of Detroit Lions wide receiver Calvin Johnson.
Although Johnson is reportedly leaning toward retirement, Peterson said he hopes to see him change his mind and return for the 2016 season.
Via Dave Birkett of the Detroit Free Press:
Johnson and Peterson entered the NFL in the same draft class (2007). Johnson went second overall to the Lions, and Peterson went seventh overall to the Vikings. They have gone on to become a couple of the most dominant players at their respective positions. No player has recorded more receiving yards than Johnson has since 2007 (11,619); the same is true for Peterson when it comes to rushing yards (11,675).
Some of the stars from the first-round of that 2007 draft class are starting to retire. Linebacker Patrick Willis called it quits before the 2015 season. Running back Marshawn Lynch and linebacker Jon Beason both announced their respective retirements this week. Before long they'll all be memories.
If Johnson listens to Peterson and pushes off his retirement for at least one more season, their draft class will temporarily avoid losing another legendary member.