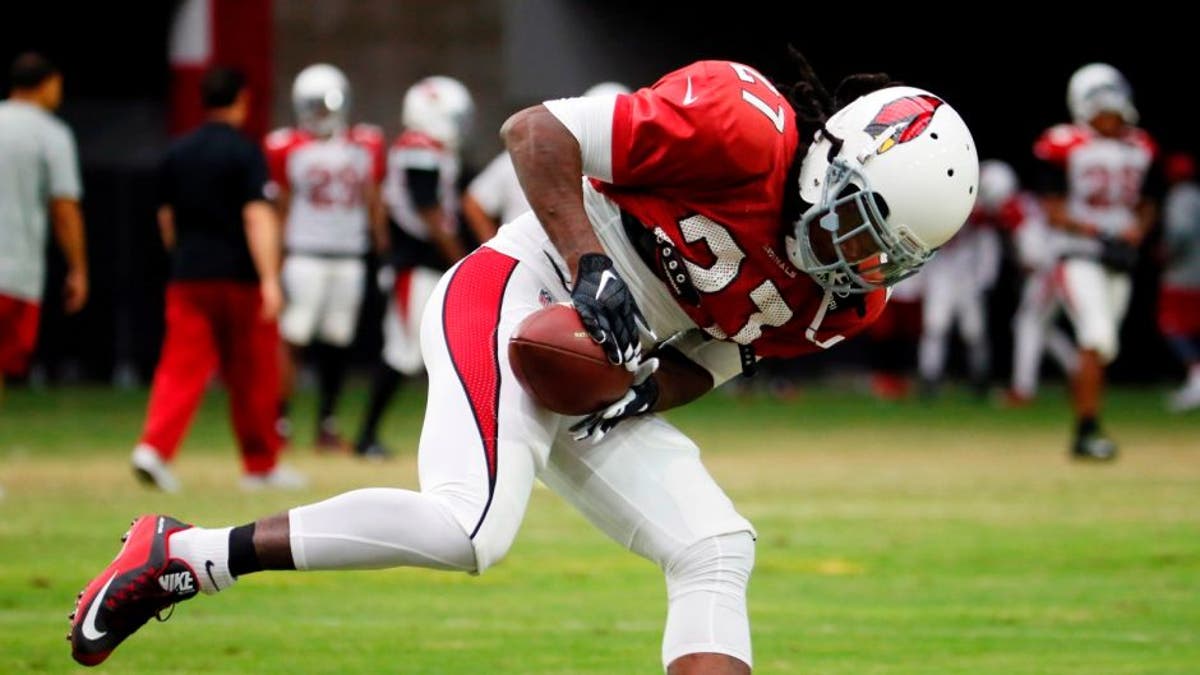 GLENDALE, Ariz. -- Probably no Arizona Cardinals player understands the importance of a successful running game better than quarterback Carson Palmer does.
Palmer's big play-action shots downfield won't work if the defense doesn't have to worry about the run, and the Cardinals' average of 3.3 yards per carry last season ranked dead last in the league.
So Palmer more than welcomed the signing this week of running back Chris Johnson.
"It's a really, really good fit for him personally," Palmer said. "This is the kind of scheme that he can get put in certain situations where he has a mismatch and we've got a bunch of guys on the outside you've got to worry about and you've got to worry about him splitting the gap and taking it all the way."
In his weekly session with reporters on Wednesday, Palmer said the new addition is further evidence coach Bruce Arians has put a huge emphasis on improving the running game
"One of the most important parts of the passing game is the running game, especially (because) we're a heavy play-action team," Palmer said. "We do a lot of big-play action shots. We do a lot of action screens. There are a lot of different things we can do but anytime you can effectively run the ball and a defensive coordinator comes in worried about your running back getting loose, it just helps you on the outside in the passing game."
Johnson signed a one-year contract with the Cardinals on Monday and went through his first practice on Tuesday.
"He's still learning what we call things," Arians said, "but the plays that he's run natural all his life he still runs pretty natural."
Arians said that adding Johnson to the mix with Andre Ellington and David Johnson "and the rest of our guys we have an element of speed offensively right now that's pretty potent,"
Palmer called the addition of Johnson "typical for what happens around here."
"It seems like every year we somehow find a way to sign a guy that you don't think you can or you don't think you will," Palmer said. "It's a great place to play, obviously. A lot of guys want to come here and live here and play here and play for this organization, and it just makes a lot of sense for a number of reasons for him."
One of the additions aimed at improving the running game, left guard Mike Iupati, left Tuesday's practice with swelling in his left knee. Arians said Iupati would be examined by a doctor to determine the extent of the problem.
Palmer was 4-for-4 for 77 yards in an 80-yard touchdown drive in his lone series of last Saturday's preseason opener against Kansas City. He will play the entire first quarter this Saturday night against San Diego.
Meanwhile, he and the other five players with at least 10 years' NFL experience were given Wednesday's practice off.
"That's the first time he's done that," Palmer said, "and guys understand that it's not a mess-around afternoon. Guys understand if he's going to do that they better handle it the right way. The vets who have 10 years turn into coaches almost in really bringing young guys along and not standing in the back squirting each other with Gatorade."
NOTES: Defensive tackle Corey Peters was taken from the field in a cart after injuring his lower left leg. ... Arians repeated his zero tolerance for fighting in camp, saying if two players do, they run, and if more are involved, they all run. "It's not tolerated here," he said. "Coaches that believe in it, they need to get new jobs."