Adams, Clinton-Dix, among rookies impressing for 'draft-and-develop' Packers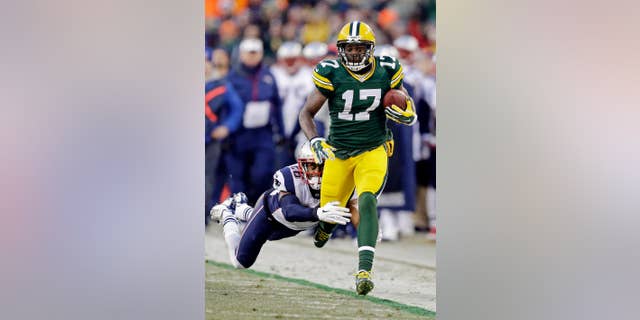 GREEN BAY, Wis. – To earn respect in the NFL, rookies must show a willingness to put in long hours, from studying playbooks to perfecting the nuances of the game on the practice field.
Consider Green Bay Packers first-year tight end Richard Rodgers most definitely in the good graces of Aaron Rodgers, which is saying a lot given the quarterback's reputation for preparation.
The draft-and-develop Packers always have to rely on rookies by virtue of their organizational philosophy. This year, Richard Rodgers is among four newcomers in Titletown who have made major contributions to one of the NFC favorites.
"We're blessed with our rookie class of guys who are really gym rats, students of the game. Guys who put in the time and prepare well. You need to see (it) in practice," Aaron Rodgers said.
That preparation then pays off on Sundays.
Davante Adams had a career-high 121 yards on six catches in last week's win over New England. It was the kind of performance the Packers needed from their second-round draft pick with the Patriots expected to blanket top wideouts Jordy Nelson and Randall Cobb.
Adams did drop a potential touchdown pass in the fourth quarter that could have made the things less stressful down the stretch for Green Bay.
The veterans let him hear about it after the victory.
"Randall and I had fun with him coming off the field," Nelson said. "But for the game that he had, he needs to enjoy that and make sure he can build off that and build off that with good and bad plays, not just the only bad play he had."
Richard Rodgers, a third-round pick, caught a 32-yard scoring pass, his second consecutive game with a touchdown. After a slow start at the position, the Packers are getting some production at tight end between veteran Andrew Quarless and the rookie Rodgers.
"It's not surprising. He's got great hands, but his attention to detail and the preparation is things that separate themselves when you're a young player, and I'm proud of him," Aaron Rodgers said.
The quarterback is having an MVP-caliber season working with fifth-round pick Corey Linsley snapping him the ball at center.
There have been a couple notable miscues with high shotgun snaps. But overall, Linsley has played very well, especially given that he didn't take over as starter until two weeks before the opener after J.C. Tretter went down with a knee injury.
Linsley is now in the middle of an offensive line coach Mike McCarthy has said could be one of his best units in his nine years in Green Bay.
On defense, first-round pick Ha Ha Clinton-Dix has been a contributor all year and worked his way into the starting lineup by midseason. He made a key play after defending Patriots tight end Rob Gronkowski on second down from the Packers 20 late in the fourth quarter.
McCarthy elected to reserve judgment on how Clinton-Dix and the other rookies were coming along. But cornerback Tramon Williams, the elder statesman of the secondary with nine years in the league, thought the rookie was ahead of schedule.
Clinton-Dix is making calls in the secondary, just like his veteran partner at the safety position, Morgan Burnett. Williams is already impressed with the instinctive and physical abilities displayed by Clinton-Dix.
"All he needs to focus on is the mental aspect of the game. I think he has that down and the only thing he can do now is just continue growing," Williams said.
Notes: DL Mike Daniels (back) and CB Sam Shields (concussion) did not practice for a second straight day. Daniels said he didn't know when he aggravated his injury during the Patriots game, but that he was feeling better. He labeled himself "day to day." ... Packers LB Clay Matthews will face his cousin, Falcons rookie tackle Jake Matthews. They could be matched up against each other during the game. "It's funny to study someone on paper, try to learn their strengths and weaknesses, and it just so happens to be your cousin," Clay Matthews said. "I'm sure we'll get some good sound bites, video clips, something to talk about later on."
___
AP NFL websites: www.pro32.ap.org and www.twitter.com/AP_NFL