Accuser says Jerry Jones paid her for 4 years to keep silent about alleged assault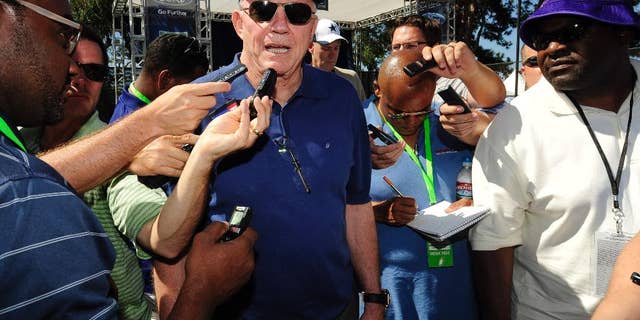 DALLAS – An Oklahoma woman says in a lawsuit that Dallas Cowboys owner Jerry Jones paid her for at least four years to prevent her from reporting an alleged sexual assault.
Jana Weckerly's attorney, Thomas Bowers, filed an updated lawsuit Monday that accuses Jones of forcibly touching Weckerly's genitals and kissing her on the lips without her consent more than 5 years ago, then bullying her into not reporting the alleged attack. The lawsuit seeks more than $1 million in damages.
Jones has denied Weckerly's allegations and the Cowboys on Wednesday referred to an earlier statement from Jones attorney Levi McCathern calling the claims "completely false."
"This is nothing more than an attempt to embarrass and extort Jerry Jones," McCathern said in the statement made immediately after the lawsuit was initially filed Sept. 8.
Bowers did not return a phone message Wednesday afternoon. Both sides have cited a gag order issued in the case since the suit was first filed as reason for declining additional comment.
The updated version of the lawsuit filed this week, parts of which were blacked out when publicly released per a judge's order, claims Jones and the Cowboys sent money to Weckerly's bank account from 2009 until at least July 2013. The lawsuit says her bank records can prove the payments occurred, though no records are included in her court filing.
She also accused Jones, the Cowboys and a longtime lawyer for Jones of taking her cell phone's memory card, which contained photos that were then leaked and posted on the Internet.
A hearing on Friday is expected to address whether the lawsuit was filed too late due to a 5-year statute of limitations.
Weckerly's updated lawsuit accuses Jones of working to keep her from reporting the assault until after the statute of limitations expired.
A Dallas police spokesman on Wednesday said he could not confirm whether an assault was reported to police, citing the department's policies on keeping any such reports confidential if they are filed. The lawsuit does not say where the alleged assault occurred or on what date.