ACC contenders, also-rans find that being healthy is better than being lucky or good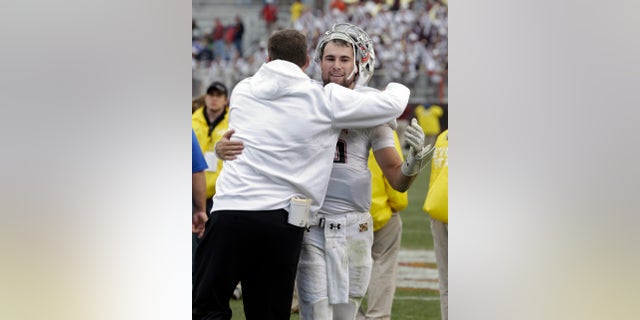 COLLEGE PARK, Md. – With the possible exception of Jameis Winston and the Florida State Seminoles, nothing has had more of an impact on the Atlantic Coast Conference standings this season than injuries.
North Carolina, Maryland and North Carolina State are among the teams that have had to overcome the loss of their starting quarterback. Florida State, in contrast, has flourished behind Winston while avoiding serious injury on either side of the ball.
Florida State has lost just one starter — junior safety Tyler Hunter, who injured his neck in the third game of the year and underwent surgery to repair a bulging disc. But Florida State didn't miss a beat.
Freshman Jalen Ramsey, who had started the first three games at cornerback, slid to safety and sophomore P.J. Williams took his spot.
Staying healthy has helped the second-ranked Seminoles (10-0, 8-0) dominate the ACC.
No. 7 Clemson is the second-best team in the conference — a 51-14 drubbing at home against Florida State remains the Tigers' lone defeat.
Clemson (9-1, 7-1), like the Seminoles, have stayed in the hunt because they the Tigers also have remained relatively healthy.
Several teams have had to overcome injuries to find success.
Maryland has qualified for a bowl berth because of its ability to overcome an injury ledger that lists nine players lost for the season. The Terrapins have been forced to play without their top two receivers, Stefon Diggs and Deon Long, each of whom broke a leg in a loss to Wake Forest last month.
At least the situation is better than it was a year ago, when the Terrapins lost four quarterbacks and had a promising 4-2 start turn into a 4-8 disaster.
"It's tough to prepare for those kind of injuries," Terps quarterback C.J. Brown said. "Last year was different because it was all mostly at one position. This year we've had just as many injuries, spread throughout the whole team. For guys to be able to step up and for us to fight through that type of adversity really showed a lot of character."
Brown missed two games and was forced out of two others because of injury, but he finally put all that behind him last week and ran for 122 yards in a 27-24 overtime win at Virginia Tech.
North Carolina's depth at quarterback proved instrumental in the team's recent climb in the Coastal Division.
Bryn Renner needed surgery on his left, non-throwing shoulder earlier this month to repair a detached labrum and broken bone. The injury meant the loss of Renner's senior leadership and the departure of one of the program's career leading passers, but the Tar Heels had already been using sophomore Marquise Williams more in a rotation before the injury.
Williams is 2-0 as the full-time starter during a four-game winning streak that's put the Tar Heels within reach of bowl eligibility after a 1-5 start.
On the other end of the standings are teams that have not been able to overcome injuries.
North Carolina St. lost starting quarterback Brandon Mitchell to a foot injury in the season opener against Louisiana Tech after he directed the Wolfpack to touchdowns on their first two possessions.
Mitchell eventually made it back, but N.C. State (3-7, 0-7) never got into a groove offensively this season in part due to inconsistency at the quarterback position.
Virginia's defense had already lost three-year cornerback Demetrious Nicholson to a toe injury when its best defender, 6-foot-7, 295-pound defensive tackle Brent Urban, went down. Urban was leading the nation among defensive linemen with eight pass deflections at the time, and the Cavaliers were ranked in the upper quarter nationally on defense.
Since then, their pass rush has been virtually non-existent and the Cavaliers have lost seven in a row.
Virginia Tech is 1-3 since cornerback Kyle Fuller, arguably their best defender and tackler, sustained a groin injury in the off-week before the Hokies played Duke.
Syracuse has lost five players for the season, including wide receiver Adrian Flemming , cornerback Keon Lyn, defensive tackle John Raymon, and senior placekicker Ross Krautman (lower body). Freshman wideout Brisly Estime, tied for third on the team with 21 receptions, sat out last week's 59-3 loss to Florida State with a broken hand.
"Guys that were playing aren't playing, so you can't rely on that comfort factor that he's been there, done that before," coach Scott Shafer said. "That's probably the biggest thing."
Injuries also have helped open the door for one of the league's unlikeliest contenders.
Each of Duke's final four regular-season opponents has lost arguably its best offensive player to a serious injury: North Carolina State (receiver Bryan Underwood), Miami (running back Duke Johnson), Wake Forest (receiver Michael Campanaro) and North Carolina (Renner).
"It's just the nature of the game. At any time, right now I could walk out of here and do something to myself — I could rupture my Achilles," Duke defensive tackle Sydney Sarmiento said. "You never know. Anything can happen. It's just a part of the game and luckily thank God we've kind of stayed away from that bug this year, which has killed us in years past."
___
AP Sports Writers Pete Iacobelli, Joedy McCreary, Hank Kurz, Aaron Beard, Jimmy Golen, John Kekis and Kareem Copeland contributed to this report.