ACC commissioner confident NCAA board will pass autonomy proposal for 5 power conferences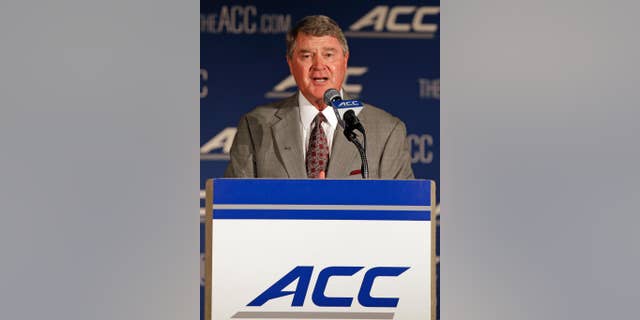 GREENSBORO, N.C. – Atlantic Coast Conference commissioner John Swofford says he's confident the NCAA will pass a proposal that will allow the five power conferences to make some of their own rules.
Speaking Sunday on the first day of his league's two-day media event, Swofford said he "will be surprised if it doesn't pass."
He said it "largely gives the power five conferences what we have been asking for" and will keep those schools "under what we call the big tent of the NCAA."
Under the proposal, the five power conferences — the ACC, Southeastern Conference, Big 12, Big Ten and Pac-12 — would have autonomy to make their own bylaws.
The NCAA's board of directors will vote Aug. 7.
SEC commissioner Mike Slive made similar comments last week about the proposal.
Swofford said he "can't stand here today and tell you that the five of us are all on the same page" about every detail. But he adds that "the Good Ship Status Quo has sailed."
"It's time for some changes and some significant changes, and it's going to present some challenges," Swofford added. "But it's time for that."
Swofford said the ACC would favor the issuing of four-year scholarships and said the full cost of attendance is "conceptually" something we support as a league.
Slive had said in June that those five conferences would consider forming a "Division IV" if they weren't granted autonomy on some NCAA governance issues. Swofford made no references to Division IV on Sunday.