Abreu struck by ball in freak accident before first game back from DL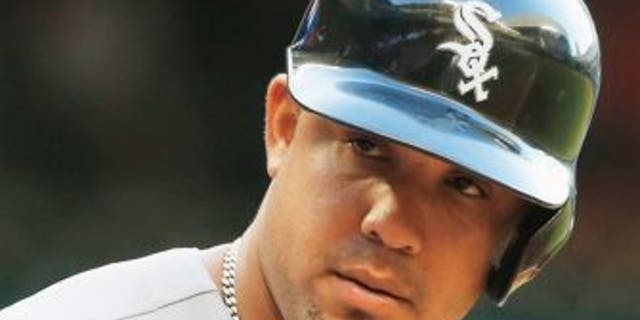 Just hours after being activated from the disabled list, Chicago White Sox rookie Jose Abreu received a serious scare Monday afternoon when he was struck by an overthrown ball during pregame warm-ups at Dodger Stadium.
Abreu, placed on the 15-day DL May 18 with tendinitis on his left ankle, was activated Monday prior to the White Sox's game in Los Angeles. But while he was standing in front of the visitor dugout before pregame stretching, Abreu was struck in the chest by a ball thrown by someone taking infield for the Dodgers during the home team's batting practice session.
FOX Sports MLB Insider Jon Paul Morosi was on the field at the time, only feet from Abreu at the time of the incident.
Morosi reported that Abreu was hit on the left side of his chest, doubled over and nearly fell down, leaned on one Chicago official to maintain his balance and then was escorted to the clubhouse, where he remained for about 10 minutes.
Luckily, Abreu returned to the field and resumed stretching, at which time a club official said the slugger was fine and would remain in the starting lineup.
At the time of his ankle injury, Abreu, the April AL Rookie of the Month and AL Player of the Month, led the majors in home runs with 15. Despite the time away, he still leads the club in home runs and RBI (42).
Monday's incident was the second scare for Abreu in his recovery. In a simulated game Saturday, the 27-year-old was hit on the elbow by a pitch, causing a trainer to examine him before giving him the OK.