Abel Trujillo submits Tony Sims in the first round to kick off UFC 195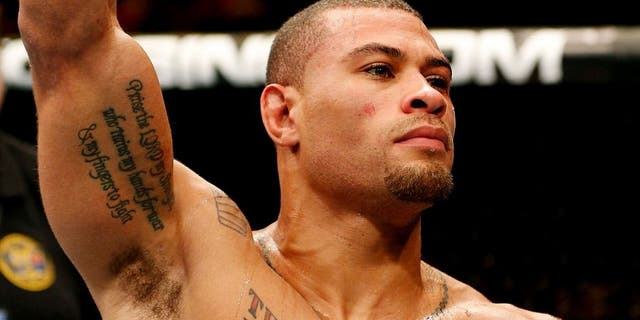 Following a pair of submission losses, Abel Trujillo returned the favor pulling off a guillotine choke to put Tony Sims away to kick off the UFC 195 pay-per-view card.
Trujillo fell victim to a couple chokes in his most recent fights, but after a rough start on the feet with Sims, he quickly snatched a submission and put an end to the bout early in the first round.
Sims came out with great technical boxing early, sitting back and waiting for Trujillo to get aggressive. He then countered with fast hands and a long reach to tag the Blackzilian fighter with a number of combinations to open the fight.
Trujillo is well known for his knockout power, so rather than sit back and wait for a big shot to land, Sims decided to alter his strategy and look for the takedown.
Unfortunately the move backfired as Trujillo quickly grabbed onto Sims' neck and fell to his back, latching onto the guillotine choke as he squeezed his arms as tight as he could.
A second later, Sims had no choice but to tap out with the pressure mounting on his head and neck.
"It's MMA, he's a great striker but I knew I was better overall," Trujillo said following the win. "He kind of just gave it to me so I took what he gave me."
Trujillo gets a much needed win over a very tough lightweight following a two-fight skid as he picks up his fourth victory overall in the UFC in arguably the deepest division in the sport.