Aaron Rodgers: 'I think the way things are going is just fine'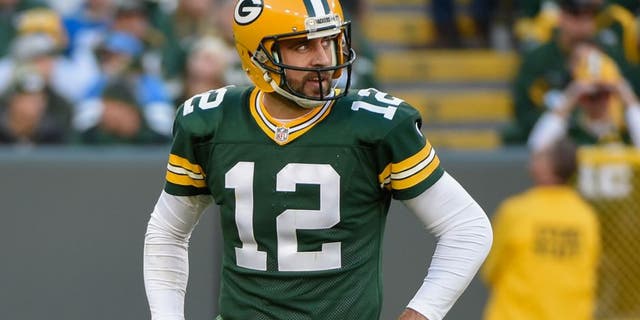 Packers QB Aaron Rodgers is not concerned about his team's three-game losing streak. USA TODAY Sports
After a 6-0 start, the Green Bay Packers have lost three straight games. Green Bay's struggling offense has averaged less than 20 points per game during the three-game losing streak, yet quarterback Aaron Rodgers doesn't seem too worried.
When asked about head coach Mike McCarthy and his role in the offense, Rodgers said he's fine with the way things are going, according to Ryan Wood of Press-Gazette Media. McCarthy turned over play-calling duties to offensive assistant Tom Clements this offseason.
Obviously, things in Green Bay are far from "just fine" after three consecutive losses. However, Rodgers is the type of quarterback who's always brimming with confidence. Last year, he famously told panicking Packers fans to "R-E-L-A-X" after the team dropped two of its first three contests. That team went on to finish 12-4 and reach the NFC Championship game.
Rodgers knows he's one of the best quarterbacks across the league, so as long as he's healthy the Packers should be all right. Green Bay is still in decent playoff position, even though the team now trails the Minnesota Vikings (7-2) for the lead in the NFC North.
MORE NEWS: Want stories delivered to you? Sign up for our NFL newsletters.