Aaron Rodgers, Green Bay Packers ask fans to lock arms during national anthem
Green Bay Packers quarterback Aaron Rodgers and his teammates have asked fans to stand up and lock arms at Thursday's night game during the national anthem.
On Sunday, most of the Packers locked arms with one another during the anthem. Three players, Lance Kendricks, Martellus Bennett and Kevin King chose to sit instead.
"This is about equality," Rodgers told ESPN Tuesday. "This is about unity and love and growing together as a society and starting a conversation around something that may be a little bit uncomfortable for people."
BALTIMORE RAVENS NATIONAL ANTHEM SINGER RESIGNS: 'I DO NOT BELONG THERE'
He added: "But we've got to come together and talk about these things and grow as a community, as a connected group of individuals in our society, and we're going to continue to show love and unity, and this week we're going to ask the fans to join in as well and come together and show people that we can be connected and we can grow together."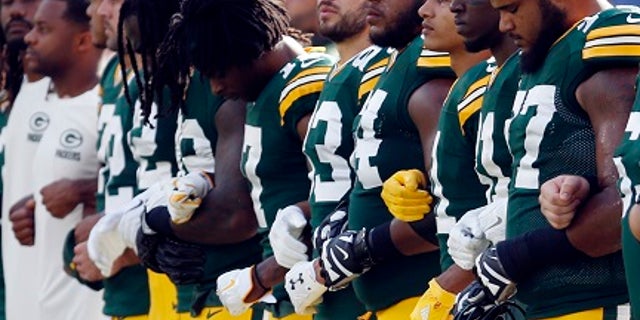 The Packers released a joint statement Tuesday urging fans to join them in linking arms during the national anthem. The players said the team's coaches and staff will be joining them as well.
"Those of us joining arms on Thursday will be different in so many ways, but one thing that binds us together is that we are all individuals who want to help make our society, our country and our world a better place," the players said in the statement. "We believe that in diversity there can be UNI-versity. Intertwined, we represent the many people who helped build this country, and we are joining together to show that we are ready to continue to build. Let's work together to build a society that is more fair and just."
NFL GREAT JOHN ELWAY ON ANTHEM PROTESTS: 'I'M ONE THAT REALLY BELIEVES IN STANDING FOR THE FLAG'
Kendricks told ESPN the idea of asking fans to join them came from Bennett.
I think it was Marty's [Bennett's] idea," Kendricks said. "Aaron spoke first, and he kind of laid it out and laid out the fact that he's on our side and he understands the message being conveyed and trying to get across. And then Marty wrote a statement, and in the statement he said we're going to lock arms and he's going to challenge the fans to lock arms as well, so it kind of puts them in a position where it's like, 'Look, you're either going to unite with us or you're not.' I think that's really cool, because it puts them in a position where it's like now we're talking to you, so you make a decision, peacefully make a decision."
On Sunday, more than 200 NFL players knelt or sat during the national anthem in response to President Trump's comments on Friday.
Trump said at a rally in Alabama: "Wouldn't you love to see one of these NFL owners, when somebody disrespects our flag, say, 'Get that son of a b----- off the field right now, out, he's fired!"
The protests began more than a year ago when former San Francisco 49ers quarterback Colin Kaepernick refused to stand during the anthem as a protest of police treatment of minorities. This season, no team has signed him, and some supporters believe NFL owners are avoiding him because of the controversy.
The Packers will face the Chicago Bears Thursday at Lambeau Field.
The Associated Press contributed to this report.