Aaron Rodgers cuts back on one of his favorite activities to focus on his body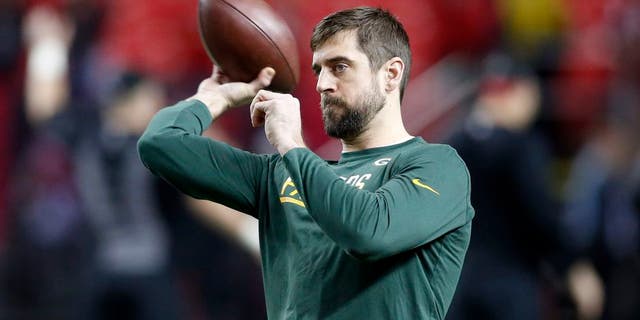 NEWYou can now listen to Fox News articles!
At 33 years old, Aaron Rodgers remains one of the best quarterbacks in all of football. He showed that last season en route to an MVP-caliber season, carrying the Packers all the way to the NFC title game.
Picking apart defenses the way he has will become increasingly difficult as he gets older, which is why hes going the Tony Romo route this offseason.
No, he isnt retiring to pursue a career in broadcasting. Hes cutting back on golf to focus on himself and football.
I feel great, Rodgers said Tuesday via ESPN. I put a lot of work in this offseason. As much as I love golf, its kind of taken a back seat to my workouts, and Im light as Ive been I think ever coming back at this time of the year. Being under 220 was kind of a goal for me. I hit that goal to start, and now its continuing to build my body. But I feel really good. My knees feel great. My arm feels really good.
Eric Risberg/Associated Press
Rodgers is a good golfer, almost always playing in the AT&T Pebble Beach Pro-Am each year. He did so again this year, but it sounds like golf is being brushed aside in favor of his body.
Staying healthy as a 33-year-old quarterback is important, especially if he wants to play as long as Brady has and theres no reason to believe he cant. Rodgers is meticulous with what he eats and how he takes care of his body, which is a great sign for the Packers.
Its also good to hear he feels like hes in the best shape possible right now.
Its fun to be 33 and feel like Im in the best shape Ive been in starting an offseason program, Rodgers said. So thats exciting. That was kind of the goal I wanted to hit and just keeping moving forward in that direction.
Rodgers and the Packers reported for offseason workouts on Tuesday, saying he came in at his goal of being under 220 pounds. Its just business as usual for Rodgers, whos poised for another Pro Bowl-caliber season in Green Bay especially with his new weapon Martellus Bennett in the mix.
Logan Bowles-USA TODAY Sports | Logan Bowles