Aaron Judge now has a judge-themed cheering section at Yankee Stadium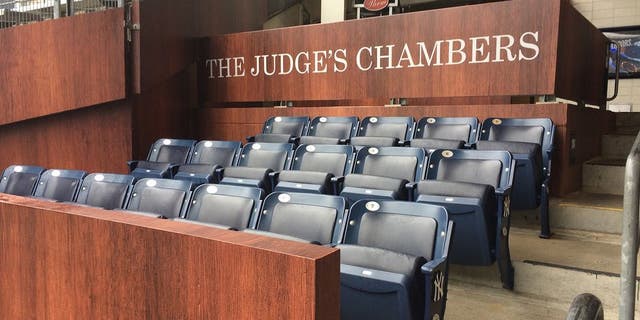 If you were getting tired of judge-related Aaron Judge jokes, settle in! They are now a permanent fixture of Yankee Stadium.
On Monday, the team unveiled a special customized section in the right-field seats labeled "The Judge's Chambers" an 18-seat cluster demarcatedby some courtroom-style wood-paneling.
A YES report said that 18 fans will be selected each game to sit in the section and will be given a wig and gavel to really look the part.
Judge has quickly become a fan favorite in the Bronx and one of the breakout stars of the young season, slashing.321/.421/.707 with an MLB-best 15 home runs going into Monday's action. He plays right field, hence the location of thenew section.
The first play of Monday's game against the Royals was a fly ball out to Judge, prompting the first boisterous celebration of the fans in the chambers:
Don't expect this sight to be confined to the official cheering section. Dressing up in judge's regalia had already become a Yankee Stadium tradition:
Let's take a short recess. (Sorry.)
USA TODAY Sports | Chris Humphreys