Aaron Hernandez was taunted amid rumors of college murder, ex-Jets player reveals
A former NFL player revealed that other players would taunt ex-New England Patriots star Aaron Hernandez by referencing rumors of a murder he was tied to when he was in college – never knowing the tight end would be convicted for killing a man years later.
Former New York Jets linebacker Bart Scott, who hosts "The Afternoon Drive" on WFAN with Chris Carlin and Maggie Gray, recalled that his teammates would "always mess" with Hernandez anything the two division rivals met on the gridiron.
"We used to always mess with Hernandez when we were on the field and say, 'Hey man I heard they found the body,'" Scott said. "And we thought it was a joke because we knew something had happened in Florida."
AARON HERNANDEZ HAD 'SEVERE' CTE, LAWYER SAYS
"We just laughed, we just used to make it as a joke, we didn't think it was serious," Scott explained.
Carlin and Gray asked if Hernandez became "uncomfortable" with the taunts. Scott replied "no," adding that the former tight end was "a funny guy," and believed other teams probably did the same thing.
He said they never thought the running joke would eventually become a serious accusation – and eventual conviction.
Growing up in Connecticut, Hernandez was known to having gang connections. While a student at the University of Florida, the former NFL player was questioned about his alleged role in an unsolved 2007 double homicide in Gainesville, Fla., the Daily News reported.
AARON HERNANDEZ HAD 'HORRENDOUS EXISTENCE' DUE TO CTE, LAWYER SAYS
Scott said he and other players were aware that Hernandez was "a bad guy" and that there "were stories floating around about him for years." He said the worst thing that happened to Hernandez was probably getting drafted to a team so near to his old stomping grounds.
"The hardest thing to do when you're an athlete is to separate from where you come from," Scott said. "We knew that he was in a gang, which a lot of players are in gangs, a lot of us grow up in gangs and what happens is it's hard to remove yourself from them, but we're removed by distance."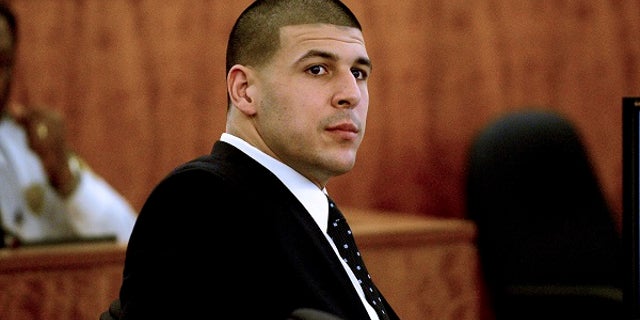 Hernandez, an up-and-coming NFL star, was convicted of first-degree murder in 2015 for the murder of Odin Lloyd. In April 2017, the troubled player was found dead in his Massachusetts jail cell of an apparent suicide. He was 27 years old.
His lawyer, Jose Baez, announced Hernandez showed advanced signs of degenerative brain disease chronic traumatic encephalopathy following his death.
The Associated Press contributed to this report.