Aaron Hernandez Granted Delay In Florida Lawsuit Until Murder Charge Resolved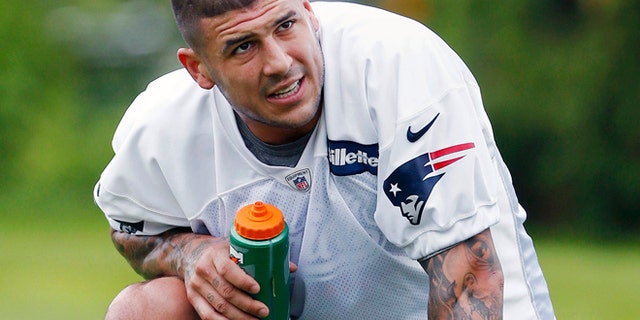 A judge has granted Aaron Hernandez's request to delay proceedings stemming from a civil lawsuit filed by a Connecticut man who says the former star NFL tight end shot him in the face in February in Florida.
Hernandez's lawyers requested a stay in the Florida lawsuit until a murder charge against him in Massachusetts is resolved.
According to his legal team, it would be unfair to Hernandez to allow the lawsuit to continue while he is defending himself in the shooting death of 27-year-old Odin Lloyd. Hernandez has pleaded not guilty to Lloyd's slaying and weapons charges.
"Under these circumstances, if the instant civil suit is not stayed, Mr. Hernandez must necessarily invoke his Fifth Amendment rights here, and special circumstances exist requiring a temporary stay of the Lawsuit pending resolution of the Bristol County Action," his lawyers argued.
The postponement request was filed in federal court Tuesday and granted by U.S. District Judge Kathleen M. Williams the same day.
In the Florida lawsuit, 30-year-old Alexander Bradley claims Hernandez shot him in the face after they argued at a strip club in February. Bradley seeks at least $100,000 in damages.
In the court documents, Hernandez's attorney also claims the legal representatives for Bradley want to link their client's shooting with the murder and gun charges against Hernandez in the murder of Lloyd.
"It appears clear that the prosecutors in the Bristol County Grand Jury were attempting to construct a connection between the shooting of Mr. Lloyd and the allegations" in the lawsuit," Hernandez's attorney, Stephen B. Gillman, said.
On Friday, Hernandez is scheduled to be arraigned on the murder indictment, and five accompanying gun charges.
The Associated Press contributed to this report.
Follow us on twitter.com/foxnewslatino
Like us at facebook.com/foxnewslatino