Aaron Hernandez 'Argumentative' With Cops, According To Warrants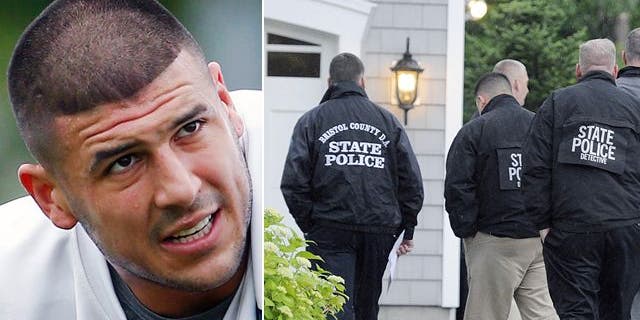 During his first encounter with the police following his friend's death, former New England Patriots tight end Aaron Hernandez was "argumentative" and slammed the door on the agents.
According to court records unsealed Tuesday, Hernandez approached police after he noticed them parked outside his North Attleboro home on June 17, the day Odin Lloyd's body was found.
Police said they asked him about an SUV he had rented. Hernandez told them he rented it for Lloyd and had last seen him in Boston the day before, the documents said.
The affidavit then said Hernandez became argumentative, asked "what's with all the questions?" and locked the door of his house behind him.
He then returned with his attorney's business card, and didn't respond when police told him they were investigating a death.
"Mr. Hernandez slammed the door and relocked it behind him," the records read. "Mr. Hernandez did not ask officers whose death was being investigated. Mr. Hernandez's demeanor did not indicate any concern for the death of any person."
Hernandez came out about 10 minutes later and agreed to be questioned at a police station, according to the documents.
Hernandez was later accused of orchestrating the man's death in an industrial park near Hernandez's home.
Hernandez is being held without bail after pleading not guilty to murder in the killing of Lloyd, whose bullet-ridden body was found in an industrial area near Hernandez's North Attleborough home.
His attorneys have said the evidence against him is circumstantial and that Hernandez is anxious to clear his name.
Eight search warrants were unsealed Tuesday after news organizations sought access to the records. A judge had granted the media requests on Monday.
The search warrants reveal the breadth of the investigation, with authorities scouring through everything from Hernandez's house to the contents of his team locker, which the Patriots had emptied into a container.
The records also detailed a discussion police had with Hernandez's girlfriend, Shayanna Jenkins, after she dropped him off at the police station.
Police said they pulled her over and she immediately burst into tears when she heard Lloyd was dead. She later told them she had last seen him two days earlier, according to the documents.
She also said she had been out to a Father's Day dinner with Hernandez on June 16, but they returned home early and she went to bed. She said Hernandez was away that night and she didn't know who he was with.
The records said Jenkins then received a call from Hernandez, who told her his agent had advised him to tell her not to speak to police.
Also Tuesday, a man who faces a gun charge in the case agreed to remain in jail until a hearing next month.
Carlos Ortiz, 27, appeared in Attleboro District Court, where a hearing to determine if he is a danger to the community was scheduled for Aug. 14. If Ortiz is determined to be dangerous, he can be held without bail for 90 days.
Ortiz is from Hernandez's hometown of Bristol, Conn., and was with Hernandez when they picked up Lloyd the night he was killed.
Another man who was with Hernandez that night, according to police, pleaded not guilty Monday to an accessory to murder charge in the case. Ernest Wallace, 41, of Miramar, Fla., will be held without bail until another hearing on July 22, under an agreement between his attorney and prosecutors.
Based on reporting by The Associated Press.
Follow us on twitter.com/foxnewslatino
Like us at facebook.com/foxnewslatino