A year later, 'Dinger reveals how win at The Glen changed team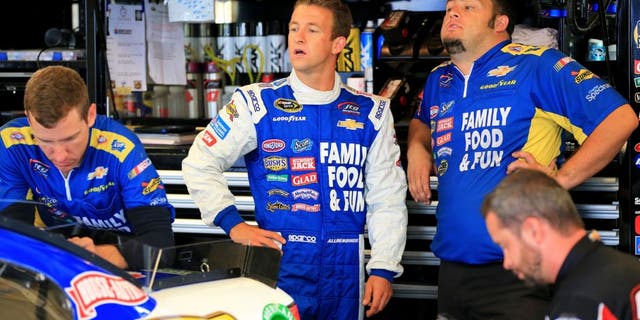 When AJ Allmendinger went to Victory Lane one year ago this weekend at Watkins Glen International, it was a big moment for multiple reasons.
In addition to it being Allmendinger's first win in the Sprint Cup Series, the triumph gave Allmendinger his first berth in the Chase for the Sprint Cup and ultimately helped him finish a career-best 13th in the standings.
The win also undoubtedly went a long way toward helping Allmendinger enter into a new, long-term deal earlier this year to remain with JTG Daugherty Racing through the 2020 season. Kroger, one of his sponsors, has also agreed to return and become Allmendinger's primary sponsor in 24 races for multiple seasons.

Along with all the tangible benefits that winning a race has brought, Allmendinger has reaped a different kind of reward that might be the most important perk of all -- at least in terms of aiding his efforts to add a second win, possibly this weekend.
"I think as a team we are a lot closer. We believe in ourselves even through the downs," Allmendinger said on Friday at The Glen, a 2.45-mile road course. "It's one of those things that we know we have to stick together. Talking about last year, (it was) our first year fully working together, trying to figure out each other and trying to have that confidence in each other. Especially when it's down, it was a struggle.
"This year even through our struggles, I think there have been some challenging times, but we all believe in each other and we all trust in each other as a team to know that we are all trying to go in the right direction. We just got to figure out how to get there. Last year I think we were all kind of trying to figure out even which direction we were going. That win has helped a lot and it's made us believe in each other and trust each other."
Even though Allmendinger has endured his share of bumps in 2015 -- a season when he's failed to finish in the top five and finished in the top 10 just three times in 21 starts -- the Los Gatos, California native believes his team is much-improved due in part to what happened at Watkins Glen one year ago.
"I think our equipment is better, our communication and progression as a race team is better. We have had a lot more bad luck just in general," Allmendinger said of his 2015 season. "Last year we just weren't running well. But it really comes down to last year at this time I had never won a Sprint Cup race. To say when it comes down to time and if the opportunity is there, what does it feel like? 'Well, I don't know, I've never done it before.' I know what it feels like now and I know what I have to do to put myself in that position. For that reason I think it's a lot different from last year."
Although this season has been a disappointment in many ways, Allmendinger sees where having that win under his belt has made the team more confident in its ability to overcome adversity.
"Even in the down times so far this year that we have had at times, we have stuck together a lot better and we have worked in the right direction," said Allmendinger, who is 23rd in the standings. "Whether it's from Tad (Geschickter, co-owner) all the way on down to everybody in our race shop, just that trust factor is way better. Even if the points don't show it right now, we are a lot better of a race team than we were at this time last year."