A week on the road, part 5: Training with Nate Diaz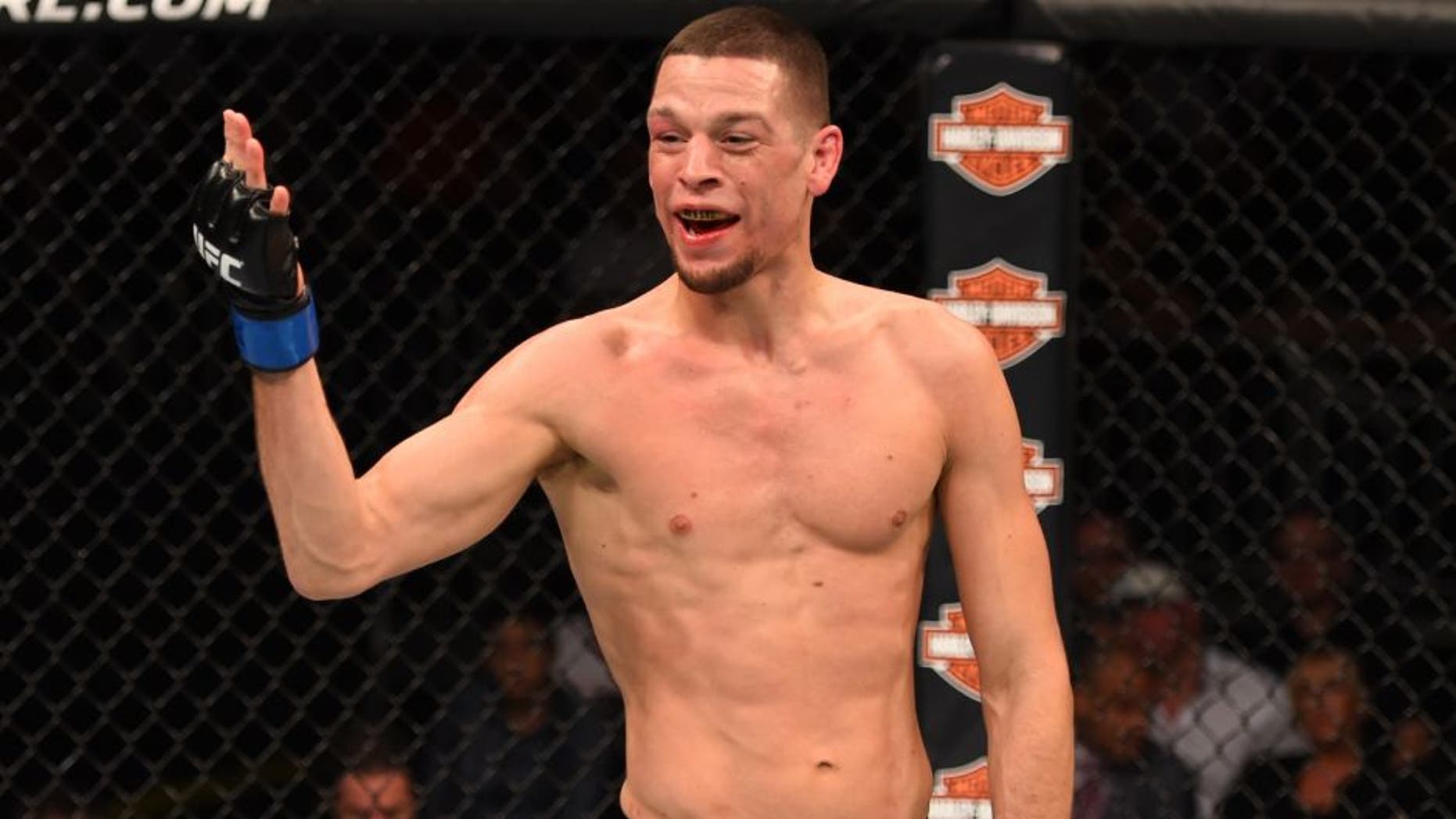 Last week, writer and fighter Elias Cepeda left his desk and home gym to visit some of the best UFC athletes, coaches and teams in the fighting hotbed of California. In Part 5 he travels to Stockton and Lodi to visit the home town of brothers Nick and Nate Diaz, trains at their Gracie Fighter Lodi academy and learns -- first-hand -- that the phrase "vacation" means something very different to Nate than it does to the rest of us.
If you missed them, catch up with part 4, part 3, part 2, and part 1, as well!
Day 5 -- Thursday, April 28
Vacation in Diaz Country
There is no hotter topic in MMA on this night, than whether or not Nate Diaz and Conor McGregor will rematch one another at UFC 200 in July. That, of course, was the plan since shortly after Diaz submitted McGregor in March.
The UFC made the fight to cater to both McGregor and their own bottom-line. Then they pulled the Irishman as a part of a power struggle.
UFC president Dana White says he still wants to keep Nate Diaz on the UFC 200 card, but the New King says that unless it is against McGregor (i.e. the biggest-money fight available to him at that date), he's going on vacation.
So, here I am in Nate's academy -- Gracie Fighter Lodi -- during a time where he's announced that he's on vacation.
The beautiful and large gym that Nate, his older brother Nick and their teammate and fellow black belt Randy Spence operate sits in a commercial park in Lodi, Calif., just north of the Diaz home town of Stockton. I've just taken a fun, technical and challenging two-hour Brazilian jiu-jitsu class taught by Spence and over 20 of his kind and sharp students.
As I sit catching my breath near Spence, who shows the team's wrestling coach Nico some mount-take details, I notice one of the teammates horsing around with someone else to my right.
It is Nate Diaz. He and his teammate are throwing light punches and kicks at one another, laughing and wrestling around.
Picture the tone of horse-play you and siblings or cousins took part in as kids, combined with world-class fighting skill. Diaz had been in the back fighter's room training some teammates.
Now, as the academy officially closes up, he warmly greets me. I introduce myself as a writer and amateur fighter from Chicago.
Diaz asks how long I've trained and then offers that, "We're about to get some training in," nodding towards his pro fighter teammates.
"If you've got time, stay and train some more."
Yes, I have time.
With that, Nate, walks over the gym stereo, turns on some rap, cuts off the outside breeze, turns on the heat and jumps back onto the elevated mats. He walks over, slaps hands and then bumps fists with me -- the sign that we're now rolling.
I train with Nate, who rolls like an expert instructor, patiently letting me work and giving up position so he can work out of bad ones. We're about the same size and have been training jiu-jitsu for about the same period of time, and I've got nothing for him.
A round later the few people left on the mats switch partners and continue jiu-jitsu sparring. This goes on for another two hours.
In the midst of all this, while rolling with a teammate, Nate establishes a top position, looks up and shouts out one of the countless jokes he tells tonight.
"They ask me, 'Aren't you on vacation?'" he smiles, his gray t-shirt darkened with sweat.
"This is me on vacation!"
By the time rolling ends, and a pushup and core exercise session begins, it is 11 p.m. Nate's point is that, other than perhaps dieting and weight-cutting, there is no offseason for him.
I headed to Diaz Country curious, among other things, if Nate Diaz was actually on vacation or not. I guess he is, but his vacations don't look or feel like normal people's vacations.
Sure, he says he's "on vacation." Sure, he tells me that he and Nick are taking a trip to L.A. the next day to visit and train with Jean Claude Van Damme.
But even on the eve of a fun trip, even while officially on vacation, Nate Diaz trains with professional fighters for at least a few hours a day. On this vacation day, Nate gave a glimpse of why he was able to beat a world champion like Conor McGregor on less than two weeks' notice.
Martial arts training is a lifestyle for Nate Diaz, a constant. On this supposed day off, Nate showed that he never stops getting ready for the next one.
Coming soon: Finding the Brothers Diaz