A starter a year ago, QB Terrelle Pryor working to make Seattle Seahawks' final roster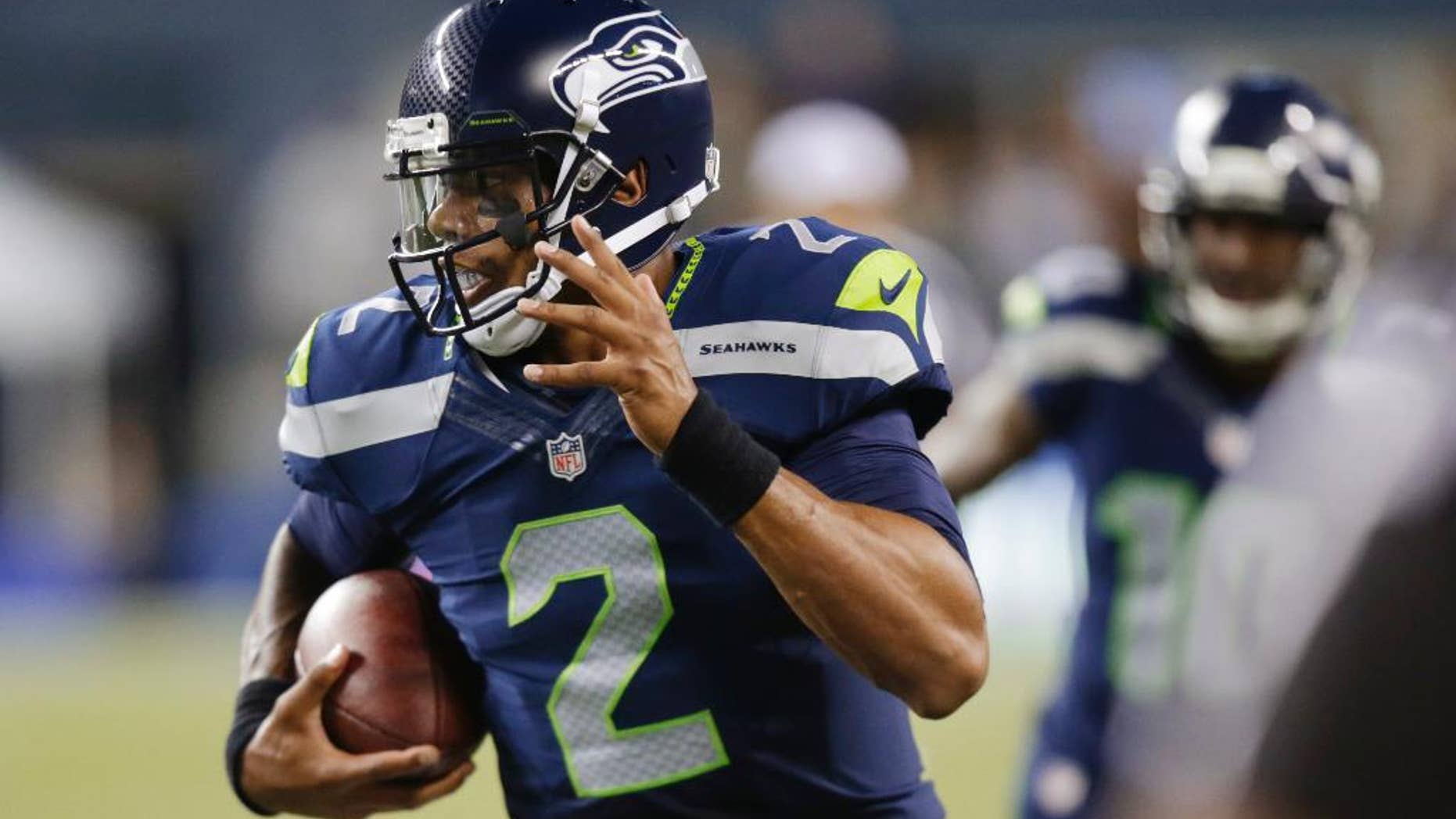 RENTON, Wash. – With one designed rollout and sprint to the end zone, Terrelle Pryor showed why the Seattle Seahawks sacrificed a late-round draft pick to add another quarterback.
Pryor's 44-yard touchdown run last Friday against San Diego showed off all his athleticism. He didn't just run away from defensive linemen and linebackers, but left defensive backs playing chase.
It was a moment that commanded attention and reminded people how unique Pryor is as a quarterback.
But there is nothing guaranteed for Pryor in Seattle. He is likely third in the pecking order behind starter Russell Wilson and veteran backup Tarvaris Jackson and Seattle has been a team under coach Pete Carroll to go with just two quarterbacks on its 53-man roster.
Pryor's moment versus San Diego was flashy and noteworthy because Seattle always values players with unique skills. But there still remains the question of his ability as a consistent passer that will ultimately determine if he makes Seattle's final roster.
"He's come along really well, he's learned really fast," Seattle offensive coordinator Darrell Bevell said. "Been impressed with that and how he's been able to pick it up and we will just continue to let him play and see how far he can come."
Pryor's trade to Seattle came after he fell out of favor in Oakland and asked to be moved. His status as a backup now is a drastic change from this time a year ago, when Pryor was preparing to be Oakland's starter for the opener.
Pryor showed flashes of what he could do early last season, completing 68.1 percent of his passes for 845 yards, four touchdowns, two interceptions and a 97.6 passer rating in his first four starts. He also brought the running element to Oakland's offense and set an NFL record for quarterbacks with a 93-yard touchdown run on the first play from scrimmage against Pittsburgh on Oct. 27.
That was the final highlight of his first year as a starter. He was eventually beaten out by Matt McGloin and lost any future in Oakland when the Raiders acquired Matt Schaub in the offseason.
"I think sometimes you have to come in the back door and go the long and hard way to get to where I want to be," Pryor said.
Pryor said at first he was surprised that Seattle traded for him, but he quickly realized the opportunity he was being given.
"A great defense, a great quarterback and great coaches and all the guys that I could learn from," Pryor said. "In the NFL anything can happen and you have to be ready at any moment and I definitely am having a great time here and learning a lot of football."
It's easy to forget that Pryor is barely 25 years old. Wilson is nearly seven months older. He's still young, but there's no certainty he'll be on Seattle's roster for the opener.
The only season under Carroll that Seattle has started the year with three QBs on the active roster was 2011. In other years, Carroll has opted to have an extra positional player, rather than carrying a third quarterback.
Could that change this season? Perhaps. Of the trio vying to be Wilson's backup, only B.J. Daniels has practice squad eligibility remaining.
Pryor's chance to impress will likely come in the final preseason game in Oakland against the Raiders. The Seahawks plan on giving Jackson the bulk of playing time with the No. 2 offense this week against Chicago.
"He's been great in practice. He hasn't had as much opportunity yet as we would like to see because the games have gone in a manner he hasn't had to (throw)," Carroll said. "He throws the ball really well, he's a terrific downfield thrower, he's got a big arm. ... He's done a lot of good stuff. We feel very confident in him."
NOTES: LBs Malcolm Smith (ankle) and Korey Toomer (hamstring) both practiced for the first time since the start of training camp on Monday. Smith, the Super Bowl MVP, has been slowed after offseason ankle surgery. ... Carroll said LT Russell Okung and C Max Unger could see their first action of the preseason on Friday against Chicago.
___
AP NFL website: www.pro32.ap.org and www.twitter.com/AP_NFL