A-Rod admits he'll be 'a little nervous' in spring training debut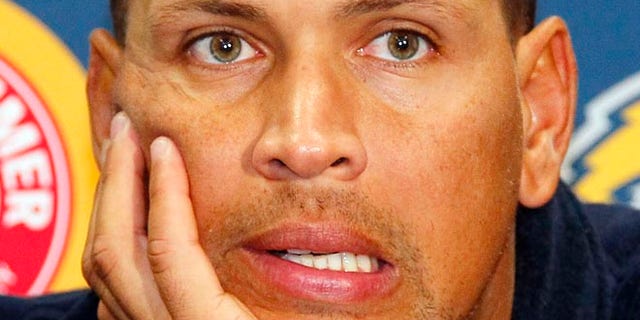 TAMPA, Fla. (AP) – Since Alex Rodriguez last stepped into a batter's box during a game, Boston and San Francisco have won World Series titles, the New York Yankees missed the playoffs in consecutive years and a new commissioner has taken office.
He has served a one-year drug suspension, filed and withdrawn multiple lawsuits, gone through more attorneys than most people retain in a lifetime and filled more back-page headlines than players who actually appeared in games.
A-Rod returns on Wednesday for his first game in 17 months, slated to be a designated hitter for two or three at-bats against the Philadelphia Phillies at Steinbrenner Field in New York's spring training home opener.
"I'll be a little nervous," he said Tuesday. "I haven't been in front of my — our — fans, for a long time. I'm excited about that. I have some challenges ahead."
Are the Yankees' fans his fans? Thus far, he has been applauded during batting-practice sessions but crowds have been sparse. While Wednesday's game isn't a sellout, a crowd of about 9,000 is expected. His reception will be examined as intently as his swings.
"He was caught. He paid his time, and now he's back, and he's a Yankee and we're going to cheer for him," New York manager Joe Girardi said. "Some people are going to say, you know what, I might have a hard time cheering for him. And some people are just fans and they fall in a love with a player, and no matter what they do, it doesn't matter."
New York owes the three-time AL MVP $61 million over the next three seasons, and they seem stuck with each other, like a squabbling couple in the days before divorce was accepted. He has been replaced at third base by Chase Headley, and the Yankees say they hope he can hit well enough to be a DH. While Rodriguez hopes to back up Headley at third and Mark Teixeira at first, A-Rod hasn't worked out with a first baseman's glove.
"I am excited for tomorrow," Rodriguez said. "I'm not sure how ready, but I'll give it a shot."
Rodriguez turns 40 in July and hasn't played a full season since 2007, before signing a then-record $275 million, 10-year contract. He has had surgery on both hips and a variety of more mundane ailments.
Fifth with 654 home runs, A-Rod could earn an additional $30 million for historic achievements as part of a marketing agreement with the Yankees. But in a sign of the tension, when he met with team officials last month to apologize, they told him the Yankees intend to dispute those payments because the team concluded he no longer has commercial value.
He has stayed to script since arriving at spring training on Feb. 23, a milquetoast contrasting the defiant persona he displayed during Major League Baseball's investigation of the Biogenesis of America clinic. Rodriguez has apologized without going into detail and has not addressed findings by an arbitrator that he used three banned substances from 2010-12 and twice tried to obstruct baseball's investigation.
A-Rod has said he's ready to move on. To what remains unclear.
"I think people are curious on how he's going to do," Girardi said. "There's probably a lot of people that are pulling for him to do well."