A Perfect Call For A Perfect Game: Miami Pitcher Accomplishes Rare Feat, Broadcast To The World By His Little Brother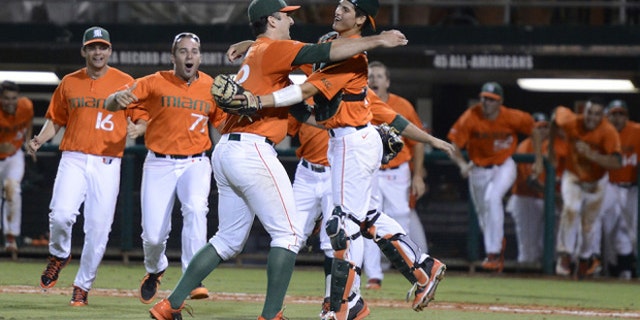 NEWYou can now listen to Fox News articles!
University of Miami pitcher Javi Salas pitched a perfect game on Tuesday night against the Villanova Wildcats.
As if that wasn't sweet enough for Salas, literally every pitcher's dream accomplishment, his historic feat was recorded by none other than his little brother, Jorge, who happened to be calling the play-by-play for the university's student radio station.
"I'm at a loss for words," Jorge, 19, said on WVUM moments after calling his brother's perfect game. "I have nothing to say. I've probably seen him pitch over 200 times and I've never been able to witness something like this and the fact that I got to witness it on the radio with you guys is just something very special."
Javi, a senior and the team captain, retired all 27 Wildcat batters he faced in 113 pitches. It was the second perfect game in University of Miami history and just the 22nd perfect game ever in NCAA Division I baseball.
"I don't even know what to think," Javi said to Hurricane Sports after the game. "In that last inning, I was trying to keep my adrenaline down. The fans were getting up, and I couldn't believe it. It's a dream come true."
Jorge is a freshman majoring in accounting. He called his first baseball game over the radio just a week ago and got the nod to call his brother's game from Chris Wittngham, the sports director at WVUM. The student radio station exclusively carried the game, so the only recording of the historic moment for Javi is voiced by his brother.
"The wind up. The kick from Salas. The pitch… swing and a miss and it's a perfect game! Salas did it! It's a perfect game for Javi Salas! Zeroes across the board!" Javi said breathlessly on the radio. "Javi Salas has thrown a perfect game against the Villanova Wildcats on this fourth night of March 2014. Oh my goodness!!"
Jorge managed to keep it professional throughout the call but he did drop a disclaimer in the beginning of the ninth inning.
"Just to make sure that everyone knows," he said, "I'm Jorge Salas, I'm Javi's little brother. If I get a little too excited, you guys know why."
A lifelong sports fan, the understandably excited little brother told Fox News Latino he first started thinking a perfect game was possible in the fifth inning. He noticed his brother's pitch count was in the sixties and he had gone through the lineup with relative ease. At the end of the fifth, the station manager told the broadcast crew they had to start mentioning the possibility of a perfect game, but Jorge actually remained hesitant.
"I just didn't want to be the guy that jinxed my brother's perfect game," said Jorge, who admits getting nervous while watching his brother pitch. He also admitted he tried to limit the number of times he mentioned the word :"perfect."
After the game, the triumphant pitcher went to the broadcast booth at the stadium and was interviewed by his little brother Jorge.
"I gave him a big hug and told him I loved him," Jorge said to Fox News Latino in a phone interview on Wednesday. "I hugged him for a while and I told him congratulations."
The Salas brothers are self-described best friends. The two of them have been been playing baseball together since they were little. In fact, both their mom and dad used to play baseball.
"There were a couple of times where we would interview each other and act like we were athletes," Jorge remembered. "One of us would act like a media reporter the other one as an athlete."
The parents live very close to the university campus in Coral Gables, and grew up going to Hurricane baseball games at Mark Light Field.
The Salas family had uncles, parents, grandparents and family friends at the game. Afterward, they all went home home to listen to one brother call another the other's perfect game.
"Everyone was just laughing, we all really enjoyed it," Jorge said, laughing. "It's all downhill from here — it was crazy and I really enjoyed it."