A look inside the world of RPOs, college football's newest offensive force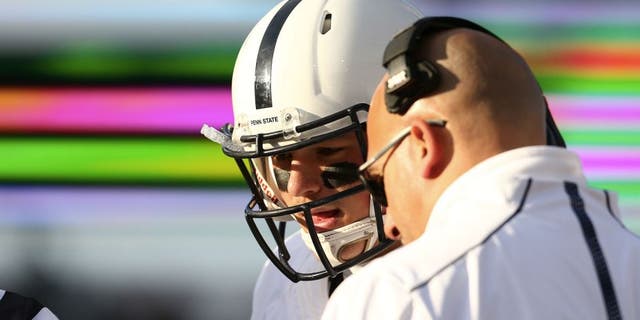 In the past two decades we've seen a handful of innovative offensive minds shake up the football world, from Chris Ault to Mike Leach to Gus Malzahn to Art Briles to Chip Kelly. One of the things that has shaken up football in recent years has been the spread of RPO -- run/pass option -- concepts.
My old colleague Mike Kuchar, a former college D-lineman-turned-coach, is the co-founder of X&O Labs. The site, which offers premium content, is done by football coaches and geared to football coaches, but much of the content will appeal to fans as well, especially those who are intrigued by the Xs-and-Os.
Kuchar's new study came out Thursday, and it's a follow-up to the study on RPOs that X&O Labs produced in January 2015 that was by far the best seller the company has produced. As part of this project, X&O Labs tapped into some of the most prolific offensive coaches at the FCS, D-II and D-III levels. I suspect several of these guys will be working at the FBS level soon. Among them: Dustin Beurer, OC, Albion College (MI); Andrew Breiner, head coach, Fordham; Brent Dearmon, OC, Arkansas Tech; Brian Flinn, WR coach, Villanova; Jake Olsen, OC, Loras College (IA); Joe Osovet, former head coach, Nassau CC (NY); Drew Owens, OC, Western Connecticut State; Clay Patterson, head coach, Northeastern Oklahoma A&M; Matt Stansfield, run game coordinator and tight ends coach, Duquesne; and Pat St. Louis, OC, Morehead State. One of the coaches involved was D-III Texas Lutheran OC Andy Padron, who has since been hired as the co-OC at Bowling Green.
The 31-year Padron is a certainly a name to remember. The son of a Texas high school coach, he credits spending time learning from Hal Mumme to incorporate Air Raid pass concepts, as well as visiting Baylor every spring, and he took one of his favorite running plays from Chip Kelly's Oregon attack.
Padron told me nearly 100 percent of his system is based on RPOs. Texas Lutheran was 6-24 the three seasons before Padron arrived to help turn TLU around, and last year the Bulldogs won a third straight Southern Collegiate Athletic Conference Championship and led the SCAC in nearly every offensive category.
"It gives the offense a chance to be right," he said of the RPOs impact. "You want to make (the defense) wrong. You want to have to think fast."
Padron is far from the only offensive coach that has made a big jump this offseason after feasting on defenses by utilizing RPOs. Texas hired Sterlin Gilbert four years removed from being the OC at Temple (TX) High School and just two seasons removed from being FCS Eastern Illinois' OC and QB coach. Penn State hired former Fordham head coach Joe Moorhead as its new OC after transforming a 1-10 team into one that won 12 games two seasons later by relying on a run game that was fueled a majority of the time by RPO concepts.
Expect the Nittany Lions to use more RPOs this fall. Moorhead's new boss at Penn State, James Franklin, said he recalls the roots of RPOs back when he was an assistant at Washington State to Mike Price in the late '90s during the early days of the One-Back Clinic. The Cougars would either throw a bubble screen or run the Inside Zone depending on what the outside linebacker did. They also had a slant route called on the play as another option. "It was more pre-snap (read) at that point," Franklin said. Now, QBs read pre-snap on one side of the formation and post-snap on the other.
For a broader look at the world of RPOs, I caught up with Kuchar to try and get a better sense of the impact they are having on major college football.
FOX SPORTS: The term 'RPO' has become pretty well-known among college football fans in the past year or so. Give us some examples of the programs that are best known in coaching circles for using RPOs and have been at the front of implementing them and why those schools are so good at it?
KUCHAR: Kansas State, Baylor, Clemson, Tulsa to name a few, although I'd bet that the majority of programs are at least using some forms of the RPO system. What we are finding is the various degrees in which programs are using them. We've talked with a few programs who base 80-90 percent of their system on post-snap RPO's whereas there are other programs that use less than 10 percent.
I would think by now that most programs have RPO capability in their system, especially high-tempo teams where play decisions are made from the sideline. It becomes just a matter of whether or not the play is determined pre-snap by the OC or post-snap by the QB.
FS: On the back cover of one of your books, you reference Urban Meyer saying the number of teams using run/pass option concepts would double by 2014 and it has. How widespread has the use of RPOs become throughout college football?
KUCHAR: Hard to find a tempo offense that is not using them. One of the coaches we worked with on our study "The Complete RPO Manual" told us it's "the sexiest thing in football today."
The exciting thing is these concepts are still in the developmental phase this spring, which is why we decided to release another study about "The Designing of the RPO System." Coaches are in meeting rooms now devising these RPOs.
The struggle we have had is getting top-level coaches to discuss it on record, but we did do some work with them anonymously and had some very successful FCS programs comment on what they were doing.
FS: I remember you tweeting about a coach from Henderson State (Gus Malzahn's alma mater) talking about a "give" they have for RPO and it came from a coach who led the nation in INTs last year? What was that give and how much did he credit it for all the interceptions and what other things have you heard from defensive coaches to implement them?
KUCHAR: We actually published a study on "Defending RPO and Triple Option Concepts" this February and Henderson State was one of our contributors. We've uncovered many philosophies on defending these concepts, most come in the form of using split field and man coverage structures.
Like any form of defensive football, success lies in fundamentals, assignment recognition and execution, particularly in defending option concepts which RPOs are a form of.
FS: What has been the most eye-opening thing you've learned about RPOs in all your research in the past year?
KUCHAR: Really the creative ways in which coaches are designing them. The possibilities are endless.
The foundation of the RPO system is finding out how defenses are adding extra defenders to the run game and then devising pass tags to manipulate those "conflict" defenders. There is truly so much to pick from, which is why in this study we wanted to give coaches a plan in developing the RPO system. It's become a hybrid of the spread offense and the wishbone.
We've found that in order to be really successful at using RPOs, coaches must commit to them and protect all of their runs with an RPO element. This next study serves as the foundation in how to design these RPO concepts based off of elements (personnel groupings, formations, run game, etc.) they already have in their system.