A kinder, gentler Torts? Maybe a little bit for Blue Jackets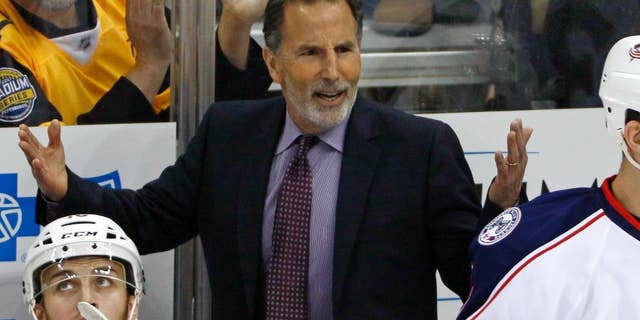 NEWYou can now listen to Fox News articles!
COLUMBUS, Ohio – Last summer, John Tortorella sent Columbus Blue Jackets players a terse personal letter letting them know that uncomfortable times were ahead.
But if they worked hard, he wrote, it would all be worth it.
The Tortorella training camp was notoriously demanding and set the tone for a season in which the Blue Jackets would put together a 16-game winning streak on the way to making the playoffs for just the third time in franchise history. The camp was part of the no-nonsense Tortorella's rebooting of a culture he said he found when he was hired in Columbus after the team started 0-7 last season.
The talent was there, but the attitude needed adjustment. Enter Torts.
"I just felt that it was a lousy room with guys thinking they could come and go as they pleased — the entitlement factor," he said. "I thought our mindset stunk."
It didn't take long for Tortorella to add a businesslike culture of working hard, being in the moment and never getting too up or too down in the Blue Jackets. Win your shift, win the period, win the game. Block out the noise.
The intense Tortorella even eased up this season as his young team bought into the brand of fast, close-checking, "safe is death" hockey he wanted out of them. He's still a ranter and raver, as he's shown at times this season, but players say he's dialed it down. It certainly helps to win more games than you lose.
"He might have his moments where he's not particularly happy with you, and he'll share his emotions a little bit, but he's definitely calmed down and learned to really talk it out," said winger Cam Atkinson, the team's leading scorer.
Tortorella admittedly had to walk away from the dressing room at times this season so he wouldn't blow up after the Blue Jackets played a bad period, letting assistant coaches interact with the players. He stopped attending power-play meetings, handing them over to assistant Brad Larsen, and delegated other duties. He got rid of the traditional morning skates to allow players to decide how they wanted to spend their time before games. He bent on some previously hard-and-fast rules.
"I think he's been a little calmer," said veteran winger Brandon Saad, who scored the only goal for Columbus in a 4-1 playoff loss to Pittsburgh Friday night. "He demands a lot of players, but there were some times last year when he flipped the switch. And this year he's kind of relaxed a little bit more, taught a little bit more rather than screaming."
The Blue Jackets are down 2-0 in the best-of-seven series, but the team's aggressive style of play has pleased Tortorella. The series continues in Columbus on Sunday night.
"They'll be fine," he said.
Tortorella, a 58-year-old Boston native, has mostly managed to avoid the kind of antics that made him a YouTube celebrity. Like the time as Vancouver coach when he tried to get into the Calgary dressing room to fight the opposing coach. Or the time he tried to go after a fan behind the bench with a hockey stick. The focus has been more on the players than him, which is the way he wants it.
"This team probably has been the story of the year because they know their identity and play as well as anybody in the league — and John Tortorella has a lot to say about that," said Jeremy Roenick, an NBC hockey analyst who played under Tortorella and against his teams.
"But he's also let these players dictate how they're going to be coached," Roenick said. "He's taken away morning skates to allow the guys the ability to prepare and put all their efforts out on the ice for a game. He's allowed them to have a voice. And if those players don't respond the way they're supposed to, he lets them know about it."
___
More AP NHL hockey at https://apnews.com/tag/NHLhockey
___
Follow Mitch Stacy at http://twitter.com/mitchstacy