A.J. Pollock: 'I'm ready to go' for Opening Day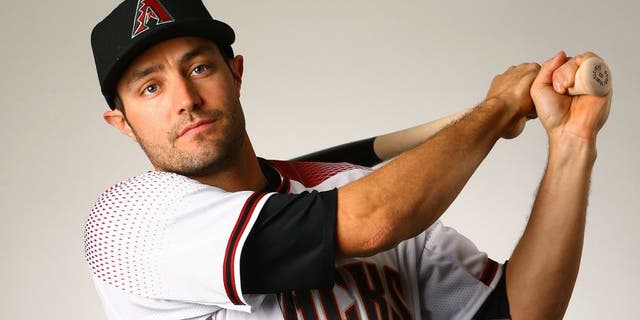 SCOTTSDALE, Ariz. -- With Opening Day six days away, the most burning issue for the Diamondbacks is the readiness of All-Star center fielder A.J. Pollock, who's been limited to eight "official" at bats while recovering from a sore elbow.
Manager Chip Hale indicated Tuesday that it's pretty much Pollock's call as to whether he'll be ready to play.
If that's the case, it should be all systems go.
Pollock batted four times against Arizona ace Zack Greinke in an intrasquad game on Tuesday and said he sees nothing that should prevent him from being in the Opening Day lineup.
"I'm ready to go," Pollock said.
Pollock had two hits in those four at-bats against Greinke -- a bloop single and "another one that was kind of an Arizona Cactus League hit.
"I felt pretty good, I felt competitive against him," Pollock said. "It just feels good to be playing."
Pollock got two hits against Archie Bradley -- who only gave up three -- in a minor-league game on Monday, and Hale said the lack of official at-bats is not concerning, because he's been facing quality pitching.
"He's feeling better every time he goes out there and plays, more confident, that's what we're looking for," Hale said, adding that he hopes to get Pollock into the lineup for the team's final two Cactus League games against the Kansas City Royals on Friday and Saturday at Chase Field.
"My gut tells me he's going to be ready for Opening Day, but he has to feel he has enough at-bats under his belt that he can compete at the highest level," Hale said.
Pollock said it's hard to imaging a much higher level than taking his cuts against Greinke.
"I faced Zack today for four at-bats. I think that's worth about 30 at-bats," he said.
VOTE OF CONFIDENCE FOR COLLMENTER
Josh Collmenter's spring-long struggles continued Sunday when he gave up five earned runs against the Texas Rangers. For the spring, he's given up 14 runs and 17 hits in 13 innings, leading some to wonder if his roster spot could be in jeopardy.
It's been widely assumed that one spot is available in the bullpen, and the D-backs have been blessed with strong performances from four candidates for that last spot -- Enrique Burgos, Evan Marshall, Silvino Bracho and Jake Barrett.
Hale, who confirmed Tuesday that the team has decided to break camp with 12 pitchers, said Collmenter's earned a large benefit of doubt because of his proven track record at the major leagues.
"It probably means everything right now," Hale said.
Collmenter lacks dominant stuff but has thrived because his feel for pitching keeps hitters off-balance. This spring, he's been unable to hit the spots he needs to hit.
"He has to be able to establish down, he has to be able to establish in, so he can pitch up, and he hasn't done a good job of it," Hale said. " He's aware of it, he's working on it. I keep saying this over and over -- guys like him, he's established himself as a major leaguer, he knows how to pitch.
"Yes, we do have a lot of guys knocking on the door, and pushing at him to get in this door, so it's not an easy decision for any of us."