A great time to be a sports fan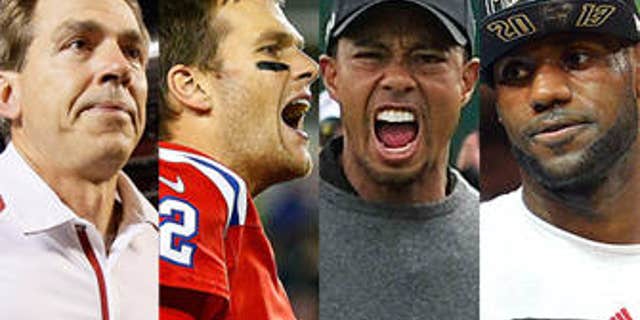 AKRON, Ohio – It was during our conversation, when LeBron James perked up at the mention of surpassing Michael Jordan as the greatest NBA player of all time, that it dawned on me: We sports fans may be bearing witness to an epoch that will be remembered as a golden age for sports.
"That's my goal," LeBron said of ending his career as the all-time best. "That's my personal goal. I'm critiqued a lot. But I put more pressure on myself than anyone. I'm my biggest critic. I want to be the greatest of all time. And that's the type of pressure I put on myself. And at the end of the day, like I said, when I throw my shoes over top of that wire, you guys can list me where you want to."
Before you Michael Jordan fans lose your minds, let me also take aim at the tempers of the diehard supporters of Bear Bryant, Jack Nicklaus, Dan Marino and Joe Montana.
LeBron's not alone in trying to chase down the greatest person in the history of his sport. Nick Saban could do it in the world of college football coaching, Tiger Woods in golf and Tom Brady among quarterbacks.
We're not wrong at Fox Sports 1. Fun times really are here again. There's greatness all around, greatness on a historical and possibly all-time level, playing out year round in four of our major sports.
That doesn't even include the Dodgers' recent 42-8 stretch, tying them for the best 50-game run in 100 years of baseball. Or Miguel Cabrera trying to be the first man ever to claim back-to-back Triple Crowns. Or Michael Phelps and Usain Bolt pursuing their own iconic, all-time status. Even our villains are at an all-time level. Alex Rodriguez, Lance Armstrong and Ryan Braun have redefined what it means to be a cheater.
But it's the greatest-of-all-time conversations that are the most perplexing, fun, emotional and argument-worthy. They get to the heart of fandom, of looking for excellence in sports so we see it reflected in ourselves as fans, as lovers of a game, as a society. Who doesn't want to be able to look back years from now and tell our kids and grandkids that yes, truly, we saw the next Babe Ruth and all that meant unfold before our eyes?
There's also nostalgia caught up in this, in how our identities are linked to our sports teams and stars and coaches. Jordan fans -- myself included -- do not want Michael supplanted because then our small role in that history gets supplanted, too. Same for "The Wire" fans in television, "Godfather" fans in movies -- same for all of us who have loved something so deeply that we need that something to remain the supposed greatest ever.
That, too, is part of the magic of all-time greatness. You compete not just with others but with history itself and the way it will be remembered.
It's why, in that same conversation with LeBron, he struggled but enjoyed ranking his top three NBA players of all time. It's fun. It's joyous. It's really, really tough. LeBron came up with Jordan, Dr. J and Bird. Mine are Jordan, Russell, Magic. Yours is probably different. That's what makes sports so awesome, and this era in sports so remarkable: Tom Brady, Nick Saban, LeBron James and Tiger Woods all have a shot at being the greatest of all time in their chosen sports. I don't think they'll all get there, but it doesn't matter. That we get to watch them have a legitimate chance is remarkable.
I say Brady has already done it, and former NFL great Joe Theismann, a guy better equipped than most of us to pass judgment on quarterbacks, told me last week he agrees.
Saban, while not yet there, seems like a near lock. He has coached four teams (three at Alabama, one at LSU) to national championships and his office, which looks out a window at a museum dedicated to Bear Bryant and Bryant's six national titles, could soon hold a few more. Alabama is the favorite this season -- that would make it three in a row -- and Saban is certain to be in the mix for years to come. It's very likely he gets to six, or seven, or even more.
Tiger's a tougher proposition. He has stalled at 14 majors, true, making Jack's 18 seem further away than it once did. Tiger is again the best player on earth, but he reverts to being a broken player on weekends at majors. Still, it feels the way it did with LeBron after he and the Heat lost to the Mavericks in the Finals: Get one and the floodgates will open.
And then there's LeBron. He has two rings. Jordan has six. LeBron is 10 years into his career, poised to make a run at another title this season and then able to choose whatever team in 2014 best affords him a surer run at more rings.
Will he get there? I don't think so. It feels a lot like "Mad Men," which has two seasons left and is, to my mind, the second greatest television show ever behind "The Wire." I don't think "Mad Men" closes the gap and gets it done, but I think it's possible. I don't think LeBron, in his next decade or so, catches or passes Jordan either, but that's possible, too.
What I do know is that getting to watch him try -- along with Saban, Brady and Tiger -- makes this one of the all-time great moments to be a sports fan.
Good times really are here again.
You can follow Bill Reiter on Twitter or email him at foxsportsreiter@gmail.com .