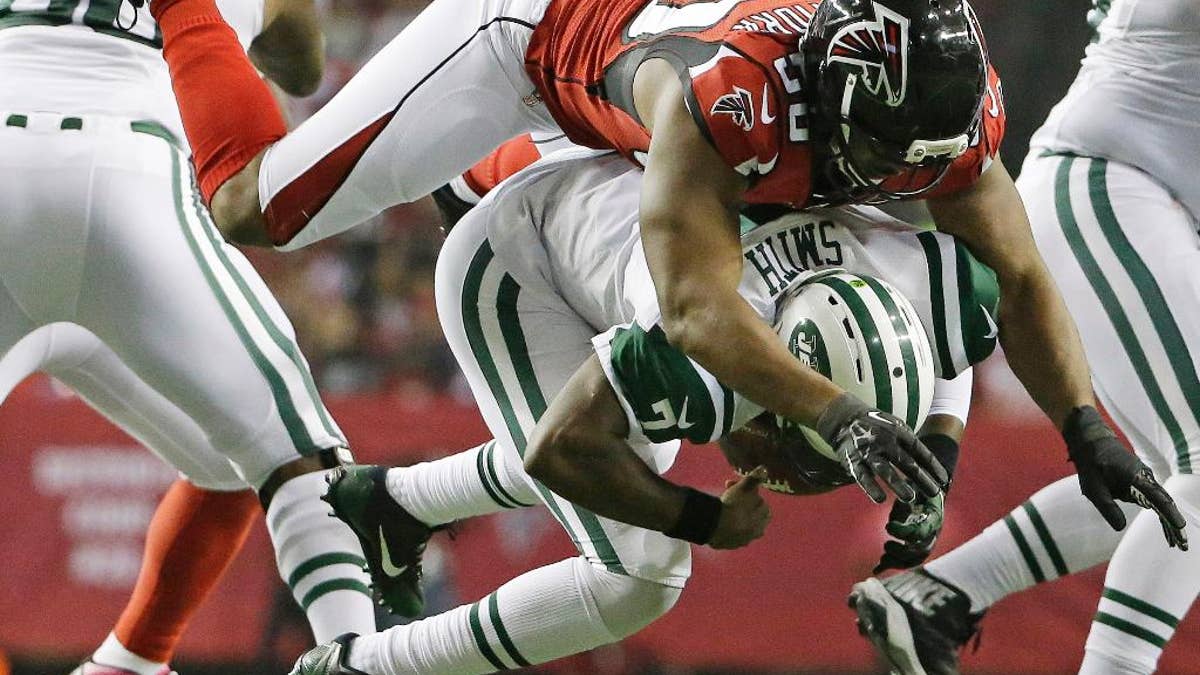 FLOWERY BRANCH, Ga. – Osi Umenyiora still goes online to play video games against his buddy Victor Cruz.
Oddly enough, their game of choice is FIFA soccer. Cruz usually takes Manchester United, while Umenyiora prefers either Chelsea or Man City.
"I'm not going to lie. He wins the majority of the time," Cruz said. "But I come back when it matters, so I'm cool with that."
On Sunday, they'll be opponents in that other kind of football, in a game that really matters.
Umenyiora, who spent the first decade of his career with the New York Giants, will line up for the first time against his former team as a defensive end for the Atlanta Falcons.
It seems downright surreal to everyone involved.
Umenyiora was such a key and immensely popular member of the Giants for so long, helping the team to a pair of Super Bowl titles. He made the Pro Bowl twice and had 75 sacks during his tenure with New York, including a career-best 14.5 in 2005.
"I'm excited to see a lot of the familiar faces," Umenyiora said. "I was there for 10 years, basically a third of my life, so I met a lot of people, have a lot of good friends there. Most of the good things in my life came from that organization."
This certainly isn't a case like Steve Smith, who took such pleasure in beating his former team last week. The Baltimore Ravens receiver had 139 yards receiving and two touchdowns in a 38-10 rout of Carolina, then angrily spouted that the Panthers "stabbed me in the back."
There are no hard feelings for Umenyiora.
"I left there on really good terms with everybody," Umenyiora said. "So I don't have any of that, 'I want to come back and kick the Giants in the teeth,' stuff like that. I've got a job to do. We've got to get back to winning. We have a big one on the road this week. That's pretty much all I'm focused on."
Umenyiora, who turns 33 next months, hasn't made much of an impact in his two seasons with the Falcons (2-2). While he had a team-high 7.5 sacks last season, the Falcons struggled to get pressure on the quarterback.
This season, he's been demoted to a backup role. Umenyiora has six tackles through the first month of the season and is still looking for his first sack. He looks out of place in the Falcons' preferred 3-4 alignment, not quite mobile enough to handle an outside linebacker role, not quite big enough to take an inside spot.
Umenyiora hopes he'll get an opportunity to go after Giants quarterback Eli Manning, a player who was always hands-off to him in practice when he played for the Giants.
"I've never had a chance to get even close to him," Umenyiora said, trying to hold back a smile.
He doesn't really recognized these Giants (2-2), who have gone through extensive turnover the last two seasons and this year brought in a new offensive coordinator, Ben McAdoo, to install a West Coast-style offense.
Manning and the Giants struggled at first with the transition to a system that relies on quick reads and throws, losing their first two games. But they've scored 75 points the last two weeks, looking particularly impressive in last week's victory at Washington.
If the Falcons tried to pick Umenyiora's brain about what to expect from his old team, he wouldn't have much to offer.
"I don't know this offense at all, so there's nothing I've been able to give our team," he said. "Everything about that team looks different than when I was there."
Well, not everything.
The Giants still have Cruz, their flashy receiver. And offensive tackle Will Beatty, a player who still speaks fondly of Umenyiora (and vice versa). They all wish they could have stuck together a little longer.
"To see Osi in a different uniform is unfortunate," Cruz said.
Even Tom Coughlin, the Giants' hardscrabble coach, sounded a bit moved by the thought of Umenyiora wearing red instead of blue.
"It's still a little bit sad to see ol' Osi over there," Coughlin said. "He was such an integral part of our team."
Notes: Falcons G Justin Blalock missed practice for the second day in a row. Blalock's absence makes it increasingly likely that Atlanta will have three new starters on the offensive line against the Giants. ... WR Harry Douglas, who didn't play last Sunday against the Vikings because of a foot injury, also missed practice.
___
AP NFL website: www.pro32.ap.org and www.twitter.com/AP_NFL
___
Follow Paul Newberry on Twitter at www.twitter.com/pnewberry1963