A dazzling, frazzling ALCS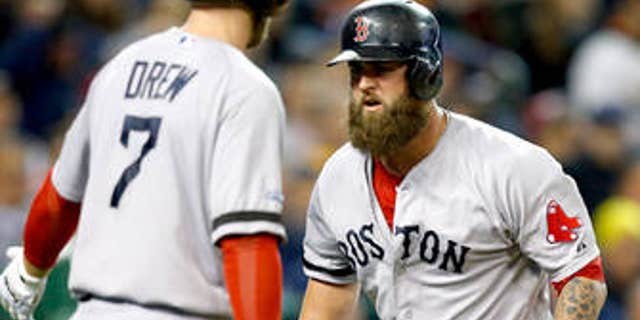 NEWYou can now listen to Fox News articles!
DETROIT – Assorted notes from the Boston Red Sox's 4-3 victory over the Detroit Tigers on Thursday night in Game 5 of the American League Championship Series:
Four of the five games in this series have been decided by one run. The Red Sox lead, three games to two, and even their players are frazzled.
"It's been draining," Sox first baseman Mike Napoli said in a quiet moment after Thursday night's game. "I get home and I pass out. I never do that."
Even second baseman Dustin Pedroia, who lives to play in games like this, acknowledged the special intensity.
"There is probably a reason why I don't have any hair," Pedroia told me in a postgame interview on Fox. "It's stressful. You're trying to find a way. You're grinding."
Then there was closer Koji Uehara, who completed only his second five-out save of the season, retiring all five hitters he faced on 27 hitters.
How excited was Uehara by what he had done?
"I just felt exhausted," Uehara said through his interpreter. "I'm too tired to even look back."
* Napoli is getting hot again at the right time, with six hits -- including two doubles and two homers -- in the past two games.
His base-running, though, was equally pivotal on Thursday night. Manager John Farrell says Napoli's reads are the best of anyone on the team.
Napoli advanced from second to third on tapper back to the mound in the third inning, then scored what proved to be the decisive run on a wild pitch.
You wouldn't know it from looking at Napoli's unkempt beard, but Red Sox third-base coach Brian Butterfield describes Napoli as a detail freak.
"You walk by his locker, everything is in order," Butterfield says. "We bunt two balls before we start hitting. He's a guy who we never ask to bunt. But he's going to get that bunt down. He's going to get his eyes behind it. He's going to place it down the first-base line, then down third.
"I tell our young guys, 'Watch Napoli. Everything he does on the field, he has a purpose.' "
* It was a tough night for Tigers catcher Alex Avila, who left the game in the fourth inning with a patella tendon strain in his left knee.
Avila said he will receive treatment and take "strong" pain-killers on Friday, adding that he expects to play Saturday in Game 6.
"I had this injury before in 2011,'' Avila said. "I've dealt with it on and off the last three years. I'm familiar with it."
Avila twisted the knee in a home-plate collision with Red Sox catcher David Ross, who barreled into him trying to score on a grounder to second base in the second.
"I would have done the same thing," Avila said. "I didn't think it was a dirty play at all, just a good hard play."
Ross, too, did not escape the night unscathed. He said the right side of his neck was sore after getting hit by Miguel Cabrera in the first inning, but did not believe the problem to be serious.
* Sox rookie third baseman Xander Bogaerts turned in a memorable performance in his first postseason start, hitting a double, drawing a walk and starting an impressive 5-4-3 play in the sixth inning.
Bogaerts also showed smarts even after making a base-running error, grabbing his helmet with both hands in exasperation after only advancing from second to third on a double by Ross.
The play proved inconsequential -- Bogaerts scored when Jacoby Ellsbury followed with a single -- but the encouraging thing was that Bogaerts immediately recognized that he had made a mistake.
He should have gone halfway on the play rather than tagging. Farrell was supportive yet firm when he returned to the dugout.
"Learn from it," the manager said.
* A number of fans on Twitter wondered what Tigers right-hander Anibal Sanchez had scrawled under the bill of his cap when he pitched in Game 1. I had a report ready for Thursday night's broadcast, but we never got to it due to the flow of the game.
Sanchez wrote a few different things on his cap, actually, including the name of his late son Alan, who died in 2007 when he was three months old from a viral disease spread by mosquitoes in Venezuela.
The strain from the boy's death helped lead to the breakup of Sanchez's marriage, but he has since remarried and his wife Ana gave birth to a daughter, Aniballa last October.
Also written inside his cap: Dios , the Spanish word for God, and Gracias por este dia , a phrase that means, "Thank you for this day."
* Tigers right-hander Max Scherzer faces Sox righty Clay Buchholz in Game 6. Tigers righty Justin Verlander will face Sox righty John Lackey in Game 7, if necessary.
It has to go seven, doesn't it?
I wish it would never end.
The original article can be found at FOXSports.com: A dazzling, frazzling ALCS.