8th-ranked South Carolina leading Southeastern Conference with 4-0 start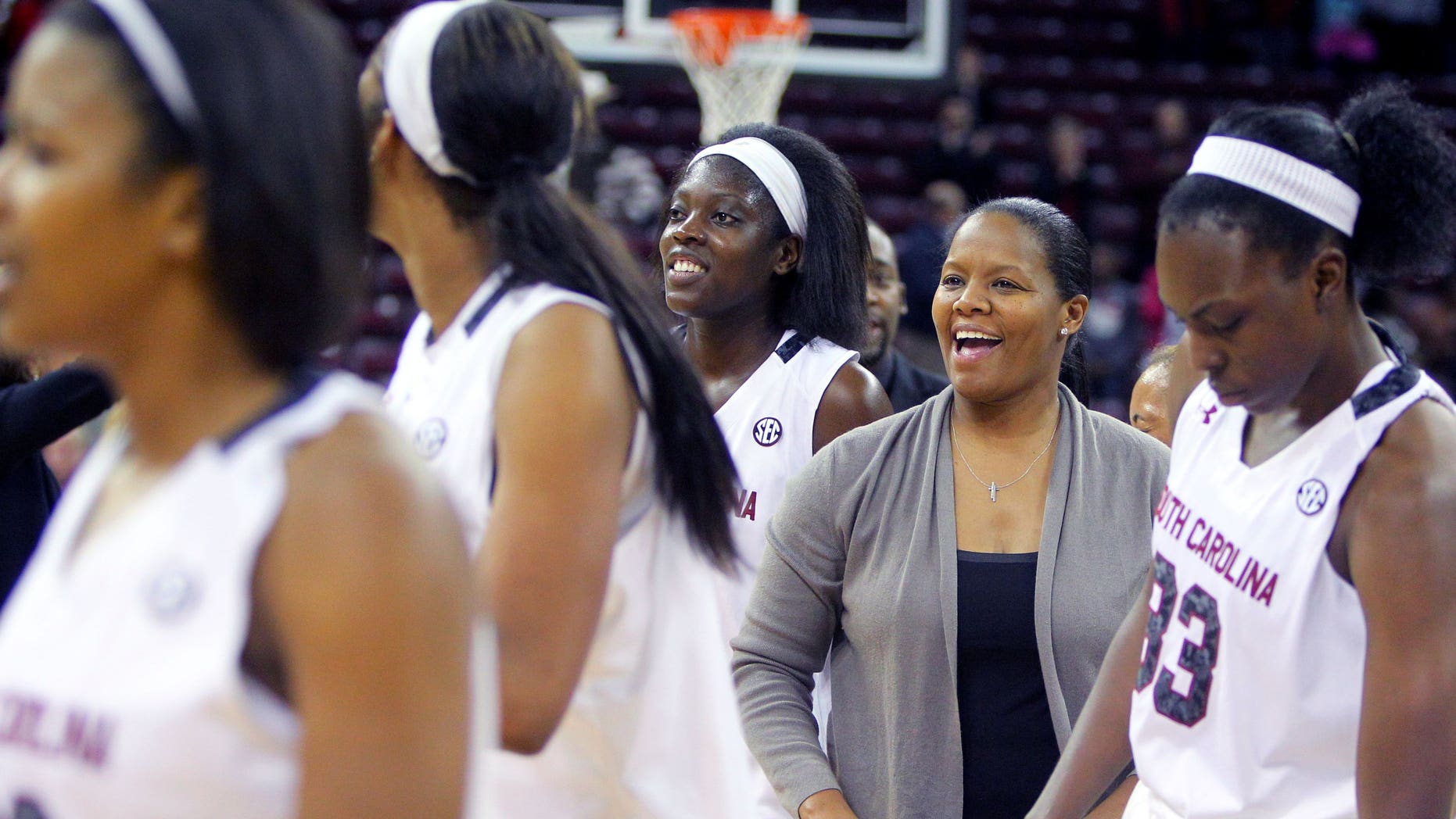 COLUMBIA, S.C. – South Carolina leads the Southeastern Conference and coach Dawn Staley believes her young club can stay on top for a while.
The eighth-ranked Gamecocks are already off to their best start in school history at 16-1. They can top their mark for best SEC start at 5-0 if they win at No. 25 Texas A&M on Thursday night.
South Carolina has used a blend of youth, speed and timely defense to move ahead usual SEC powers Tennessee, Kentucky, LSU, Georgia and Vanderbilt in the rankings. Staley, though, is looking for even more.
"This does feel pretty good," Staley said Wednesday. "But I'm greedy when it comes to wanting it all."
And she's got the Gamecocks poised for long-term success in the SEC and beyond.
Eight of the 12 players on the roster are sophomores or freshmen. Four of the Gamecocks top six scorers are underclassmen led by sophomore shooter Tiffany Mitchell. Freshman Alaina Coates, at 6-foot-4, is sixth in SEC rebounding and third in league blocks.
Coates has had six games this season with double figure scoring and rebounds, three of those in SEC play the past two weeks.
Mitchell, the team's top scorer at 15.6 points a game, has not gotten caught up in the fast start and doesn't believe her teammates have either.
"I don't think we're too high on, 'Oh, we're a top-ranked SEC team right now,'" Mitchell said. "We're about doing what we've done to get here in the first place."
That's to buy into Staley's style of speed on offense and toughness on defense.
Staley used that ethic to reach three Final Fours at Virginia, win three gold medals with the U.S. Olympic team and make the NCAA tournament eight times in her previous 13 years as a college coach at Temple and South Carolina.
Her Gamecocks showed that tenacity to outlast 10th-ranked Kentucky, 68-59, in a top-10 showdown last Thursday night. South Carolina used a second-half rally — it trailed Auburn by double-digits early on — to push past the Tigers, 72-66, on Sunday and remain undefeated in SEC play.
Mitchell said the coaches are continually preaching humility.
"They tell us to stay humble and hungry to keep rolling," she said. "That's what we intend to do."
The Gamecocks most difficult hurdles this season may come this month. They go to No. 23 Vanderbilt on Jan. 26 and then don't face another ranked opponent back-to-back road games at No. 14 LSU and No. 10 Kentucky in mid-February.
South Carolina's lone game with 12th-ranked Tennessee comes in Knoxville to end the regular season on March 2.
"Over a 40-minute period," Staley said, "we just have to impose our will."
The team dealt with some bad news recently when assistant coach Nikki McCray said she was being treated for breast cancer. McCray said she'll continue coaching as treatments allow. Staley said her players will keep surrounding McCray with support through the ordeal.
Staley will concentrate on shaping her team with so few upperclassmen.
Aleighsa Welch, at 6-foot, and Elem Ibiam, at 6-4, are both juniors with experience from South Carolina's NCAA tournament teams the past two years. Starting point guard Kadijah Sessions missed five games with an ankle injury suffered in the Gamecocks' lone loss, a 74-66 defeat to No. 9 North Carolina on Dec. 18.
The Gamecocks have won seven straight since, improving each game in Staley's eyes.
"I think they're handling it well, but you also want them to enjoy the journey because four or five years ago, we were that much further down," the coach said.
The Gamecocks have plenty of areas to improve before SEC and NCAA titles are decided, Staley said, particular on defense. South Carolina stands second in SEC scoring defense, but Staley didn't like giving up 66 points each in wins over Vanderbilt and Auburn this month.
"It's not to the point where we're thinking, 'We're God's gift to this league,'" Staley said. "But there's a point where we put in the work to get to this point and we want that to continue."