8-time defending champion Rafael Nadal into Monte Carlo Masters quarterfinals; Tsonga through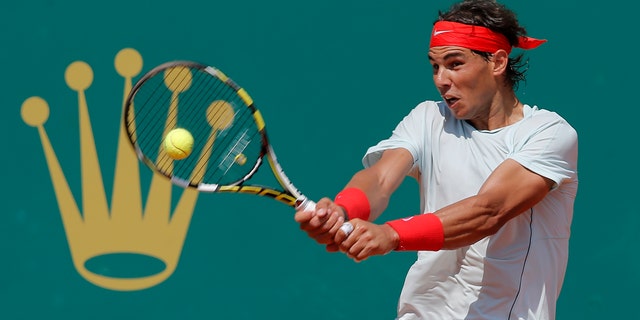 MONACO – Eight-time defending champion Rafael Nadal extended his Monte Carlo Masters winning streak to 44 matches by beating Philipp Kohlschreiber 6-2, 6-4 in the third round.
The third-seeded Nadal did not face a single break point and will play Bulgaria's Grigor Dimitrov.
Nadal clipped a forehand winner past him to break and held at love to move up 5-3 in the second set. The Spaniard served out the match, clinching victory when the German scooped a backhand into the net.
Sixth-seeded Jo-Wilfried Tsonga also advanced with a 6-3, 6-0 win against Jurgen Melzer and fourth-seeded Tomas Berdych struggled with his serve and lost 6-4, 6-2 to Italian Fabio Fognini.
"Is my first time to quarterfinal here in Monte Carlo. With the Italian people, I think they're happy. I'm Italian, so I feel home here," said Fognini, who will play Richard Gasquet or Marin Cilic in the last eight. "I have another opportunity to play a great match, I think on center court tomorrow with full stadium. I'm just happy for that."
Tsonga did not concede a single break point, setting up a quarterfinal against the winner of Thursday's later match between second-seeded Andy Murray and No. 13 Stanislas Wawrinka.
Tsonga broke at the start of the second set when he sent a powerful forehand down the line that Melzer could not return, and secured another break in Melzer's next service game when the Austrian was forced to the back of the court and sliced a backhand into the net.
After breaking Melzer again, the Frenchman served out the match.
"It's difficult to assess my game because he was not really playing his best," Tsonga said. "But I'm happy I was able to do the job. When you play tennis, you always try for perfection. "
Dimitrov beat Florian Mayer of Germany 6-2, 6-4.
Later, top-ranked Novak Djokovic will play No. 14 Juan Monaco.