76ers reveal Joel Embiid has more than just a bruised left knee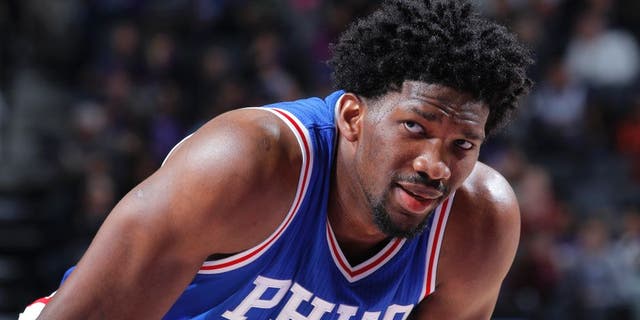 Joel Embiid has missed nine straight games with a bruised left knee, and on Saturday the Philadelphia 76ers announced that the star rookie also has "a very minor meniscal tear" in the knee.
Sixers GM Bryan Colangelo told reporters that the tear, which was discovered in an MRI last month, won't require surgery and that the bone bruise is what's keeping Embiid out. Embiid explained his extended absence by saying "I'm not healthy," but added "today's the best day I felt in the past two weeks."
While Embiid has been a beloved phenom in Philly, fans missing his presence on the court were not happy seeing video of the fun-loving 22-year-old dancing onstage at a Meek Mill concert Friday night.
Coach Brett Brown said he spoke to Embiid about that and more on Saturday.
"The conversations I had with Joel after I saw the video included a lot, some of which you mentioned," Brown told reporters. "By and large, I'd probably prefer it was a private conversation."
Embiid hasn't played since Jan. 27, when he had 32 points, seven rebounds, four assists and two blocks in a nationally televised 123-118 home loss to James Harden and Houston. Embiid is averaging 20.2 points and 7.8 rebounds in 31 games after sitting out his first two seasons with a foot injury. The 76ers entered Saturday 13-18 with Embiid in the lineup and 6-16 without him.
Embiid wasn't selected as a reserve to the Eastern Conference's All-Star team, and Colangelo said he won't compete in the Rising Stars game and the Skills Challenge.
The Associated Press contributed to this report.