7 secrets of the NFL Combine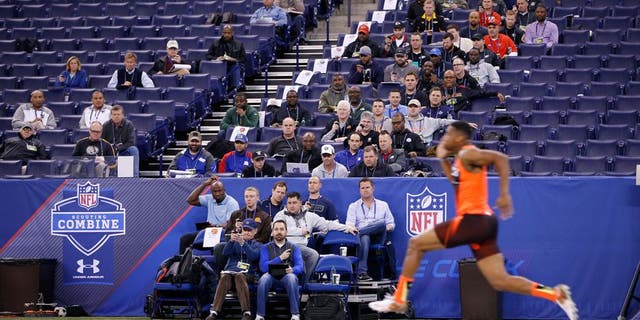 The NFL Combine has become very similar to the "Winter Meetings" of Major League Baseball over the last decade.
The media interviews, workouts and drills are televised on the league's network, but much more happens in Indianapolis during late February. Certainly, it's a showcase for players to demonstrate their physical ability. It's also a time for teams and player representation to come together and continue working on the offseason activities.
With the new league year and free agency beginning in a couple weeks, some teams will approach agents to begin the framework for contract extensions with players on their roster who have a year or two left on their current deal.
There are a lot of moving parts beyond the 40-yard dash, broad jumps and bench press inside Lucas Oil Stadium. With all 32 teams in attendance, with nearly every certified NFL agent and an incoming rookie class ready to bunker down, the NFL takes over Central Indiana for a week. Here are seven secrets of the NFL Combine:
1. Analysis begins at the airport
Once the players land, NFL personnel swarms the city and takes mental notes. It's very possible general managers, coaches, scouts and players fly in on the same plane. Players typically fly in together from their respective workout facilities in California, Arizona and Florida. Scouts are generally aware of the players because they have spent the entire year watching and meeting with them at their schools during the season. Once the players land in Indianapolis, they wait for their bags and are shuttled to the hotel from the airport. Then, they go through the process of getting their NFL Combine clothes and equipment.
2. Medicals
The next morning, players are up before the sun rises. They are asked to take a drug test and then have interviews with doctors clarifying what injuries and surgeries they had in college. They also undergo EKG tests, which checks for problems with the electrical activity of their hearts. While they had their pre-exams and X-rays the day before, teams will follow up on any red flags they have on each player. All told, it's about four hours spent at the hospital. Players who have been through the process before label this a "mentally exhausting" day and that's before they meet with the media. In the coming days, players will take psychological exams and the Wonderlic test.
3. Interview process
Each player conducts a stadium interview for a general database all teams get. All coaches, scouts, front office personnel and agents can have access to this baseline interview with request. It's a simple "get to know you" exam. One AFC scout gave FOXSports.com the questions each player faces during these general interviews:
What comes to mind when you think about family friends and your experience growing up?
What was your homelife like? Who was in the home?
Anyone else in your family an athlete?
What are your parents occupation?
How was high school experience?
What does the word discipline mean to you?
How did academics fit into your life?
Were you ever on any academic probations?
What was your major and GPA? Did you graduate? Do you intend to graduate?
Have you ever been convicted of a crime? Can your explain that circumstance?
Are there any pending charges?
Have you received any disciplinary action?
How do you turn off the switch of playing football and going home?
Do you have any hobbies?
What would your coaches/teammates say your strengths are? Weaknesses?
What type of coach do you respond to best?
What motivates you to be the best at your position? Love of the game, challenge, money
If you could change anything about yourself? What would you change?
Who do you like to pattern your game after?
If your football career would come to an end, what would you do with your life?
What's even more important to you than football?
The one-on-one team interviews are probably the most important part of the NFL Combine for the players. Teams get 15-minute interviews with 30 players of their choice. How each interview is conducted depends on the team. Some will be much more intrusive than others, digging into players' pasts. Others, will have the players explain their thought process during cut-ups of their film These are formal interviews. Most players will wear their combine gear, but some choose to stand apart by earing a suit and tie.
4. Ballroom prep
This is also a pressure-packed week for trainers. Their entire job since the college football season ended has been to prepare these players for one of the biggest job interviews of their life. In a sense, it's a game of high-stakes roulette for these trainers because their livelihood depends on the quality of performance for each player. Some trainers rent out ballroom suites inside the Indiana Convention Center. Inside those suites are massage tables, couches and flatscreen TVs. Players use this area as a lounge when they have free time between their interviews, etc. The night before they do their height/weight measurements -- depending on the goal of each athlete -- trainers will tailor what they give them. If a player needs to gain weight, they'll feed them bananas, pretzels, bread with peanut butter and water. The night before their workouts, players will try to perfect their starts for the 40-yard dash inside the carpeted suites.
5. Annual agent seminar
Every NFLPA certified agent is required to attend one of these meetings a year. This is the big one, though. Typically, this meeting runs from 9 a.m.-5 p.m. Agents are instructed on the new drug policies, updates of the collective bargaining agreement and even a Q&A with NFLPA executive director DeMaurice Smith.
6. Gift suites
This is one of the highlights of the week for players. For one of the first times, brands are able to meet and greet with the incoming class. While some top-10 picks may have already secured some major endorsements by this point in the draft process, this is an opportunity for others to get some gear. Nike, Adidas and Under Armour set up shop inside the Omni Hotel and await the arrival of the players. When they come through, they hand out free gifts like cleats, sneakers and t-shirts. They're encouraged to take pictures with their products. In the lobby of the hotel, you can see several players walking out with stacks of shoe boxes.
7. Veterans come to town
The NFL Combine is, in fact, the week that the National Football League takes over Indianapolis. It's a good opportunity for current NFL players to come and cash in by working promotions for different companies. Whether it's a Q&A with fans at a local bar or pushing a new energy drink, they'll be in town aiming to capitalize on the event.