7 players guaranteed to be first-round picks in the 2017 NFL Draft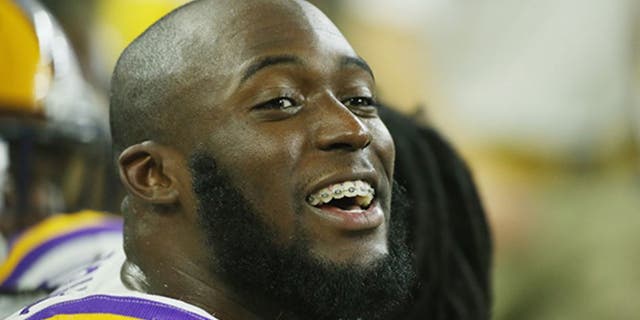 The NFL Draft may have just concluded a few days ago, but let's be honest: It's never too early to start looking at the top prospects in next year's draft.
Here are seven players to keep your eye on as we head towards 2017.
As soon as the Browns drafted Baylor wide receiver Corey Coleman on Thursday night, the jokes began to flow in: "Well, at least DeShaun Watson will have someone to throw to when he gets drafted by the Browns next year," said 10,000 different people on Twitter.
Yet putting all the bad jokes aside, there is something to take out of that comment overall: Watson might not end up in Cleveland, but he does have "No. 1 overall pick in the draft" potential after leading Clemson to the National Championship game last season.
He also finished third in Heisman Trophy voting, throwing for over 4,000 yards and 35 touchdowns in 2016. That included 405 yards and four TD's in the title game against Nick Saban and Alabama.
It's been a resurgent few years for the running back position in the NFL Draft and should continue next year as Fournette is one of several backs who could go in the first round.
The soon-to-be LSU junior was simply mesmerizing last year, rushing for over 1,900 yards and 22 touchdowns in 2016 without the hint of a passing game in Baton Rouge.
Can you imagine how good Fournette could be if Brandon Harris develops under center for the Tigers this coming season?
There's nothing glamorous about the offensive line play, but there's also no arguing its importance in the NFL Draft. This year six offensive linemen were taken in the first round, including five in the Top 20 picks. Looking ahead to 2017, there's no doubt Robinson is the best of the best in the trenches.
The 6'6, 327 lb. Robinson was All-SEC first team at Alabama this past year, and started 14 games as a true freshman back in 2015.
The scary thing is, he's still only 20-years-old, meaning that Robinson is still growing into his body.
Some have been touting Garrett as the No. 1 overall pick in the 2017 draft since even before last season began, and with good reason.
The Texas A&M defensive end finished in the Top 10 nationally in both sacks (12.5) and tackles for loss (19.5), trailing a handful of guys who were actually drafted in this past draft (such as Clemson Shaq Lawson and Kevin Dodd).
Give Garrett another season in the college level, and he could emerge as one of the most complete defensive end prospects in years by the time drat day hits next spring.
Adoree Jackson isn't just one of the best cornerbacks in college football, but quite possibly the best overall athlete in the sport as well. In addition to lining up at corner, Jackson also returns kicks and punts, played a little receiver in 2016 (catching 27 passes) and is also part of USC's vaunted track program as well. If things go to plan, he could even end up in this summer's Olympics in the long jump.
Still, Adoree's future is in the NFL, and at the cornerback position specifically, where he could be a lockdown defender for years to come.
Don't let the fact that he had just one interception in 2016 fool you; opposing quarterbacks simply elected not to throw his way.
Think of Peppers as the "2017 version of Jalen Ramsey." He's played cornerback in the past at Michigan, a little safety too, and next year could line up as a hybrid linebacker. But whatever position you put him in, just understand one thing: Peppers is a playmaker.
In terms of overall production, well, it's hard to put a value on a guy who can line up in so many positions, and also has the ability to return punts and kicks too. He finished 2016 with 45 total tackles, over 400 yards in the return game and also rushed for two touchdowns as well.
Adams is simply an old-school safety, a guy who has a nose for the ball and always seems to be in the right place at the right time.
The soon-to-be junior had 67 total tackles last year and four interceptions in 2016 as well.
Think of him as the second coming of former LSU safety Eric Reid, who was named to the Pro Bowl after his rookie year in San Francisco in 2014.
Others to watch: Jonathan Allen, DE, Alabama; Dalvin Cook, RB, Florida State; Brad Kaaya, QB, Miami; Carl Lawson, OLB, Auburn; Christian McCaffrey, RB, Stanford; Raekwon McMillan, LB, Ohio State; JuJu Schuster-Smith, WR, USC