7 NFL sophomores who will become stars in 2016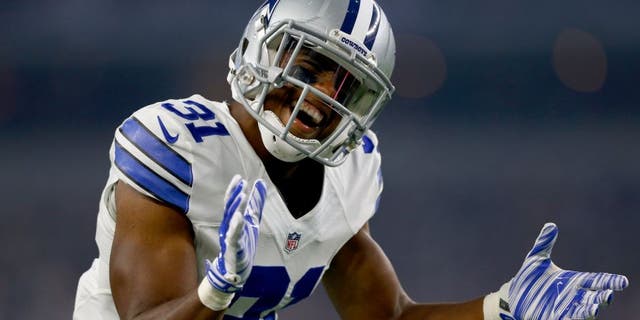 NEWYou can now listen to Fox News articles!
More so than in past drafts, the 2015 class was filled with injuries. Several first-round picks failed to even get on the field in their first year, which is incredibly disappointing for not just the team, but for the fans, too.
Fortunately, they'll all be back and healthy for the 2016 season as they'll essentially enter their sophomore years as rookies. Guys like Dante Fowler and Kevin White will join a group of second-year players that is littered with talent and poised to break out. Here are seven sophomores who are sure to have great seasons in their second year in the NFL and become stars.
Many are saying the Jaguars landed three first-round picks in this year's draft despite actually having only one in Jalen Ramsey. How? Because when healthy, Myles Jack is a top-10 pick, and Fowler missed all of 2015, essentially making this season his rookie year. Fowler was expected to be a stud pass rusher for the Jaguars last season but a torn ACL cost him all 16 games. Now, he'll join newcomer Malik Jackson on the defensive line, which is sure to be a strength. He may not make the Pro Bowl, as that's an extremely tall task for young pass rushers, but Fowler should rack up double-digit sacks.
Another "rookie," White also lost his entire season in 2015 due to injury. He's now fully recovered from a leg ailment that hindered him out of college, and he should put up Amari Cooper-like production this season. White as the size, speed and hands to be a phenomenal receiver right out of the gate. He and Alshon Jeffery are going to give opposing defenders fits on the outside, which will certainly help Jay Cutler's numbers. If White improves his route running and picks up the speed of the NFL quickly, the Bears could have one of the best wide receiver duos in the league.
Jones was a Swiss Army Knife for the depleted Cowboys last season, playing every position in the secondary from boundary corner to free safety. Barring significant injuries to his teammates, Jones won't be forced to move around as much this season. The Cowboys have declared him as a free safety going forward, where he's going to thrive. Despite failing to record an interception, Jones showed range and instincts roaming center field a year ago, where he'll find himself full-time as a sophomore. He's not a big hitter, but he should find himself with three-plus picks in 2016.
Of all the second-year players on this list, Parker had the best rookie campaign. He was far from a standout, though. After being pretty much invisible for the first half of the season, Parker turned it on in Week 12, recording at least 63 yards in five of his final six games. Now, he'll have a full offseason to work without dealing with a lingering foot injury, and that will certainly help his development. With Jarvis Landry drawing a lot of attention in the slot, Parker will see plenty of one-on-one looks on the outside. Ryan Tannehill just has to trust his big wideout and give him opportunities to make plays.
Rollins was an inexperienced defender out of college having played point guard for most of his career at Miami (Ohio). His transition from basketball to football was a smooth one in the NFL, though. He played 14 games, starting four, and recorded two picks with six passes defensed. He'll play alongside fellow second-year cornerback Damarious Randall, and Sam Shields, in the secondary, which could be a strength for the Packers in 2016. Rollins arguably has the best ball skills of the bunch and when given the chance to make a play on the ball, he does. Look for him to double, if not triple, is 2015 interception total.
Once the second fiddle to Alfred Morris, Jones is now the lead back in Washington. He showed flashes of potential as a rookie, but fumbling issues led to fewer touches. With an offseason sure to be focused around ball security ahead of him, Jones should fix that problem and become a 1,000-yard rusher in 2016. Additionally, Kirk Cousins' proven ability to air it out should take defenders out of the box, which was often the case early last season. Jones' pass-catching ability is also a plus for the Redskins.
Waynes struggled as a rookie. He wasn't good for most of the season, but he made progress in the playoffs. He was far from a starter in 2015 with just one start, but that should change in 2016. His speed and ball skills are undeniable, but he's still looking for his first career pick in the regular season. If given the chance to start this season, Waynes should return to form from his days at Michigan State. With his size and quickness, Waynes could become the best cornerback in Minnesota over Terence Newman and Xavier Rhodes -- it will just take some time, and a lot of work.