6-year-old cancer patient serving as honorary Kahne crew chief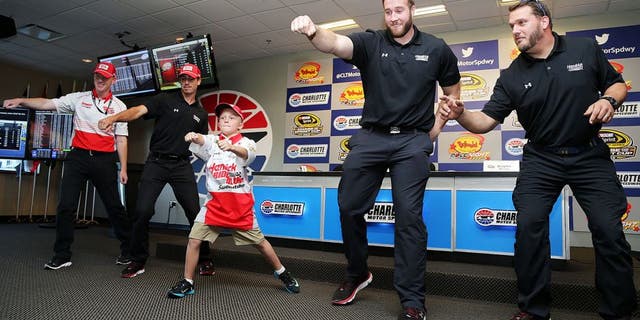 NEWYou can now listen to Fox News articles!
The NASCAR media center often can be an intimidating place. Writers on deadline are pounding out stories, carefully transcribing audio and intensely following the on-track action.
However, during NASCAR XFINITY Series final practice on Thursday at the Charlotte Motor Speedway media center came to a halt for one special visitor.
Six-year-old Braylon Beam sat where race-winning drivers, crew chiefs and owners sit to talk to the press about battles on the track. But Braylon is fighting a much more important and intense battle.
In February, doctors discovered Braylon had a tumor behind his optic nerve, causing him to see shadows out of one eye and losing vision in the other. The diagnosis called for intense chemotherapy treatments at Novant Health Hemby Children's Hospital in Charlotte, N.C.
Facing a serious diagnosis and treatment that would get the better of most adults, Braylon refuses to let it keep him down. Instead, he is committed to keeping a positive outlook on the situation and just keep dancing. His story and #JustKeepDancing campaign caught the eye of Ellen DeGeneres, the NFL's Carolina Panthers and Hendrick Motorsports crew chief Keith Rodden.
This weekend, Braylon is serving as an honorary crew chief on the No. 5 Hendrick Motorsports team, spending time with Rodden, driver Kasey Kahne and the rest of the crew.
A native of Braylon's hometown of Denver, N.C., Rodden has a personal connection with the Beam family. Talking with the media Thursday evening, Rodden fought back tears as he described how special and inspiring Braylon truly is.
Braylon was not just a bystander, either. He was offering advice to Kahne and helping the team get the car through the NASCAR technical inspection process. He also had a prediction for Saturday night's race.
"Kasey Kahne is going to step up his game," Braylon said confidently as the media center erupted with laughter.
The laughing and fun times were far from over.
After answering questions like a pro, Braylon gathered Rodden and three of the team's crew members to #JustKeepDancing, performing the Nae Nae in the front of the media center much to the delight of everyone in attendance.
So who were the better dancers, the Panthers or the race team? According to Braylon, it was the Panthers.
Check out the video and judge for yourself: