5-year analysis: Grading the 2011 Vikings draft class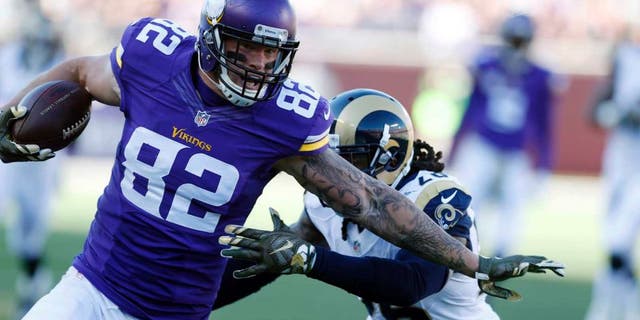 NEWYou can now listen to Fox News articles!
We all know the mantra by now: You can't really tell anything about a draft until 3-5 years down the road.
With that in mind, we're here to see exactly how the Minnesota Vikings fared in the NFL Draft five years ago, in 2011. Certainly draft grades were handed out way back when, but for a true perspective read on.
Christian Ponder, QB, Florida State (1st round, No. 12 overall)
Ponder seemed like a stretch at the time, after putting up decent but not great stats in three seasons as the starter at Florida State. He never lived up to his first-round draft slot with the Vikings, tossing 38 touchdowns and 36 interceptions in 38 games with the Vikings from 2011-14. Ponder's best stretch with the Vikings came in the final four games of 2012, when he threw four touchdowns and just one interception as the Vikings clinched a playoff berth. Otherwise, he struggled with injuries, accuracy and the lack of big-play ability during his four seasons. He never appeared to have the swagger an NFL quarterback needs to thrive, and it ultimately cost him his job with the Vikings.
Grade 5 years later: D
Kyle Rudolph, TE, Notre Dame (2nd round, No. 43)
He's never put up gaudy numbers, but Rudolph has at least given the Vikings a potential vertical threat at tight end for the past five seasons. That said, he has struggled with injuries during his career and was limited to 17 games in 2013-14. This past season was his most productive since he caught nine touchdown passes in 2012. He may never be a high-volume yards and touchdowns guy, but Rudolph has developed into a reliable player for the Vikings. He was certainly worth an early second-round pick.
Grade 5 years later: B
Christian Ballard, DT, Iowa, (4th round, No. 106)
Ballard was a prospect with impressive physical skills but red flags after reportedly testing positive for marijuana before the draft. The Vikings took a chance on him and it appeared to pay off, at least initially. He played in 32 games in 2011 and 2012, recording 29 tackles, but quit the team before the 2013 season because of personal issues. He hasn't played since.
Grade 5 years later: D-
Brandon Burton, CB, Utah (5th round, No. 139)
NFL.com wrote before the 2011 draft that Burton could become a "great starting corner for a team with a press-heavy scheme." That never happened. Burton played 14 games in two seasons for the Vikings and was cut before the 2013 season. He played five games that year after signing with Buffalo but hasn't played in the NFL since.
Grade 5 years later: C-
DeMarcus Love, OL, Arkansas (6th round, No. 168)
Love was a first team All-SEC selection as a senior who NFL.com said could be drafted as high as the second round. After slipping to the sixth round, Love made the Vikings out of training camp but was inactive for all 16 games of 2011. He missed the 2012 season after surgery to repair a torn pectoral muscle and was suspended for the first games of 2013 for performance-enhancing drugs. The Vikings cut him after his suspension ended.
Grade 5 years later: F
Mistral Raymond, DB, South Florida (6th round, No. 170)
Raymond played in the final 10 games of the 2011 season, starting the last five and recording an interception in the Vikings' win over Washington. He started the first three games of 2012 but was out for the next six because of an ankle injury. Raymond played the final seven games of 2012 and 12 games in 2013. The Vikings cut him in 2014 training camp.
Grade 5 years later: C+
Brandon Fusco, OL, Slippery Rock (6th round, No. 172)
Fusco played in just three games his rookie year but has played and started in 50 in the four years since. He lost 13 games in 2014 because of a torn pectoral injury and struggled last season as he moved from right guard to left guarding. The signing of Alex Boone could allow Fusco to transition back to his more natural position. Either way, it's impressive that the Vikings found a consistent starter with such a late pick.
Grade 5 years later: A-
Ross Homan, LB, Ohio State (6th round, No. 200)
The Vikings released Homan after 2011 training camp. Tampa Bay signed him briefly to its practice squad before releasing him. Homan retired because of concussions.
Grade 5 years later: D
D'Aundre Reed, DE, Arizona (7th round, No. 215)
The Vikings drafted the 6-foot-4, 260-pound Reed as a potential project at defensive end. He never panned out. Reed was with the Vikings for two seasons and appeared in six games in 2012. After his release in 2013, he was signed by the 49ers, Jaguars and Dolphins but never played another game.
Grade 5 years later: C-
Stephen Burton, WR, West Texas A&M (7th round, No. 236)
Burton caught over 70 receptions for 11 touchdowns in his final season for Division II West Texas A&M. He was never going to be a top receiving option for the Vikings, though he caught one touchdown pass in 2012. Burton played three games in 2011 and 12 in 2012, but the Vikings released him before the 2013 season.
Grade 5 years later: C-
Overall: The 2011 draft will be largely remembered for the Vikings' swing and miss at the quarterback position, and rightly so. The Ponder pick contributed to coach Leslie Frazier's demise and the disastrous 2013 season. Vikings fans can take some comfort, however, in the dismal record of first-round quarterbacks from that year. That round featured Cam Newton (No. 1, Carolina), Jake Locker (No. 8, Tennessee), Blaine Gabbert (No. 10, Jacksonville) and Ponder. Of those four, Newton is the only who remained a consistent playmaker past 2013. The 2011 draft also featured two second-round quarterbacks (Andy Dalton at No. 35 and Colin Kaepernick at No. 36) who have seen solid success, only adding to the frustration many fans feel about Ponder.
Ponder wasn't the only disappointment from that draft, however. Rudolph has proven serviceable but certainly isn't a star. Ballard was a disaster and Love wasn't much better. Burton, Homan, Reed and Burton never lived up to modest expectations. Raymond had a nice stretch for the Vikings but was part of the revolving door alongside Harrison Smith. The only real nice surprise from that draft has been Fusco, and even he has struggled as an everyday player. Front offices certainly won't hit on every prospect, but this draft was a very disappointing one overall for the Vikings.
Grade: D
Follow Nate Gotlieb on Twitter