5 things to watch at Wimbledon: Nadal gets rematch with Rosol; Tsonga, Querrey at 9-9 in 5th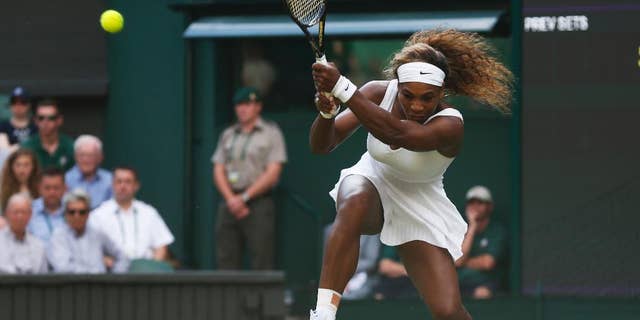 LONDON – A lot about Rafael Nadal's match Thursday will be similar to the last time he played in the second round at Wimbledon, back in 2012.
He just hopes the result will be different.
Like two years ago, his opponent will be Lukas Rosol of the Czech Republic. And like two years ago, they'll be meeting at Centre Court.
That matchup was won 6-7 (9), 6-4, 6-4, 2-6, 6-4 by Rosol, who was ranked 100th then and is 52nd now.
"I lost because he's a good player. He's a player that can play very well on this surface. He's aggressive," said the top-ranked Nadal, whose 14 Grand Slam titles include two at the All England Club. "Will be a tough match again. I know if I want to have chances to win, I need to play very well."
Here are five other things to look for at Wimbledon on Thursday:
9-ALL IN THE FIFTH: Jo-Wilfried Tsonga and Sam Querrey both will be on court for the fourth consecutive day when they resume their second-round match at 9-all in the fifth set. Both had first-round matches suspended because of darkness Monday, then completed Tuesday. And they played each other for nearly 3 1/2 hours Wednesday — combining for 64 aces — without finishing. Tsonga, a Frenchman seeded 14th, saved a match point for Querrey, an American ranked 67th, in the 12th game of the final set. At 8-all, the chair umpire appeared set to send them home for the night because of fading light, before telling them they could play two more games to see if one would win. But neither did, and with the match still even at nearly 9:30 p.m., action was halted.
AMERICAN MEN: In addition to Querrey, three other men from the United States will be trying to reach the third round: No. 9 John Isner (against Jarkko Nieminen of Finland), Jack Sock (against No. 8 Milos Raonic of Canada), and qualifier Denis Kudla (against No. 10 Kei Nishikori of Japan). A year ago, zero American men made it to the third round at Wimbledon for the first time since 1912 — when none entered the tournament.
SERENA WILLIAMS: Five-time Wimbledon champion Serena Williams tries to join older sister Venus in the third round, facing 94th-ranked Chanelle Scheepers of South Africa. Williams has won both previous matches — and all four sets — they've played against each other in the past. Another stat in the No. 1-ranked and No. 1-seeded Williams' favor: Scheepers is 0-31 for her career against opponents who are No. 16 or better.
FEDERER'S LUCKY CHARM: Good things happen to Roger Federer when he faces his second-round foe, 103rd-ranked qualifier Gilles Muller of Luxembourg. All three times they've played in the past, not only has Federer won the match in straight sets, but he's gone on to win that tournament. Then again, Federer does own 79 career titles, including 17 majors, seven at Wimbledon.
SHARAPOVA IN SECOND ROUND: A year ago, 2004 Wimbledon champion Maria Sharapova bowed out in the second round. She'll try to avoid that kind of early exit when she takes on Swiss qualifier Timea Bacsinszky, who has lifted her ranking back up to No. 85 after dropping out of the top 500 because of a foot injury.
___
Follow Howard Fendrich on Twitter at http://twitter.com/HowardFendrich