5 things to watch at the French Open, where Week 1 could be wet and Djokovic favors Nadal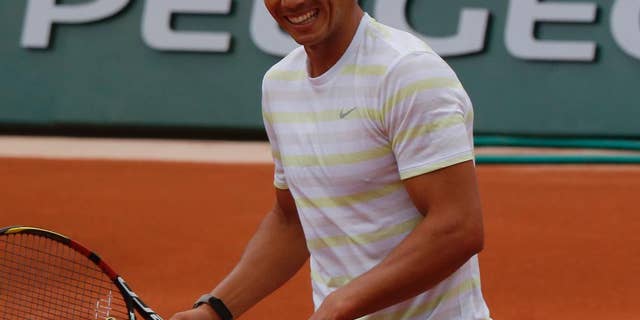 PARIS – The French Open draw ceremony began with a video showing an artist's rendering of what the tournament site is expected to look like in a couple of years, including a planned retractable roof atop the main stadium.
For now, though, Roland Garros is the same as it's been, meaning the rain that's predicted to fall throughout Week 1 will play havoc with the schedule at the clay-court tournament, which begins Sunday.
"We'll see how it's going to be with the weather," said Roger Federer, whose 17 Grand Slam titles include the 2009 French Open. "I heard it's going to be quite difficult, especially the first week with the amount of matches there are to be played. It's clearly going to have an impact."
As it is, the French Open presents a particular test, because of the grueling nature of playing on red clay, where points tend to be longer than on hard or grass courts.
Federer knows that dealing properly with the stops and starts is essential.
"Sometimes the rain starts at a very bad moment either for you or for the opponent or for the spectators — at the worst moment of the match. So ... you just need to win those matches one way or another, however you do it," he said. "Even if it's not good tennis, it doesn't matter."
Sprinkles fell Friday, and eight-time French Open champion Rafael Nadal said: "Hopefully the weather will be better."
A look at five things to know about the year's second Grand Slam tournament when the clouds clear:
NADAL THE 'No. 1 FAVORITE': For all of his struggles in the run-up to the 15-day tournament — his three losses on clay are the most for him in any season in a decade — his competition still considers the Spaniard the "No. 1 favorite to win the tournament," as Novak Djokovic put it. Nadal, 59-1 at Roland Garros, is trying to become the first man to win the French Open five consecutive years. He acknowledged feeling "nerves" and "anxiety" after quarterfinal losses at Monte Carlo and Barcelona this spring, but said reaching the final in Rome made him think "the dynamic is positive."
DJOKOVIC'S TURN?: The second-seeded Serb reached the semifinals five of the past seven years, but it's the only major trophy missing from his collection. Djokovic said he derived a boost last weekend from beating Nadal on clay at Rome, "something that doesn't happen every day." But Djokovic is 0-5 against Nadal in Paris, including losses in the 2013 semifinals and 2012 final. "Knowing that I have gotten closer and closer each year to the title gives me enough reason to be confident," Djokovic said. As for Djokovic's chances of completing a career Grand Slam, three-time French Open champion Mats Wilander said: "It's just a matter of time, you would think."
OTHER CONTENDERS: Federer practiced Friday with Stan Wawrinka, his friend and gold-medalist doubles partner for Switzerland at the 2008 Beijing Olympics. Their names are about the only ones that get mentioned when the topic is who, other than Nadal or Djokovic, could be a factor for the June 8 men's final. At No. 3, thanks in large part to his Australian Open title in January, Wawrinka is seeded ahead of No. 4 Federer at a Grand Slam for the first time. "I'm one of the favorites," Wawrinka said, "but I wouldn't say I'm the top favorite. I'm so far from Nadal, so far from Djokovic." The potential semifinals are Nadal-Wawrinka and Djokovic-Federer.
WILLIAMS VS. WILLIAMS: Time was, Serena and Venus Williams played each other in Grand Slam final after Grand Slam final, four in a row starting at the 2002 French Open. Serena won that, and added a second French Open trophy last year, part of a 53-2 record on clay since the start of 2012. There could be an all-Williams matchup in the third round in Paris, which would be the sisters' earliest meeting at a major since the 1998 Australian Open. If Serena beats Venus, she could face 2012 champion Maria Sharapova in the quarterfinals, a rematch of last year's final.
WAITING FOR A FRENCH CHAMP: During Friday's draw, the president of the French tennis federation, Jean Gachassin, referenced how long it's been since a local man won the title — 1983, when Yannick Noah (father of current NBA player Joakim) did it. "Personally, I keep thinking and dreaming of success for a French player here," Gachassin said. "Why not this year?"
___
Follow Howard Fendrich on Twitter at http://twitter.com/HowardFendrich