5 things learned on an unusually active first day back at the track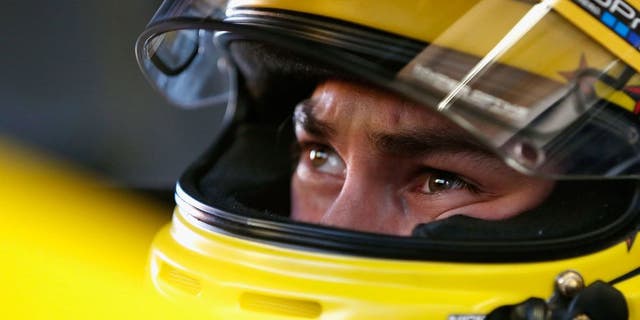 It was an unusually active first day back at the track on Friday, as the NASCAR offseason officially ended with the return of cars to Daytona International Speedway, where two rounds of practice for the Sprint Unlimited (Saturday, 8 p.m. ET on FOX) took place.
Her are five things we learned:
5. THE CAPTAIN -- Joey Logano, the defending Daytona 500 winner, isn't worried about complacency, thanks to boss Roger Penske. "He is a motivator. He pushes you forward and he doesn't even have to say anything. You just feel it," Logano said of Penske. "... It is an honor to drive for him. It isn't easy and I wouldn't expect it to be. He expects us to go out there and perform. He made it clear to us that we had a great year (in 2015) but did not achieve our ultimate goal, and we will give it another shot."
4. BACK IN THE SADDLE -- Brian Vickers looked relaxed, ready to race and glad for the opportunity to fill in for Tony Stewart in the No. 14 Stewart-Haas Racing Chevrolet during Speedweeks. If anyone understands what it's like to be out of a car due to illness or injury, it's Vickers, who has battled blood clots in recent years and hasn't raced in nearly a year.
"It's a big seat to fill," Vickers said of subbing for Stewart. "... I told myself that if I was going to come back to racing, particularly in the Sprint Cup Series, I wanted to be in a car I was confident could win."
Speaking of Stewart, it was surprising to see the three-time NASCAR Sprint Cup champion on a treadmill, Periscoping from Charlotte. But there he was and he was the same old Tony -- funny, sarcastic and determined to get back. "We've been through a lot worse than this. This is just another bump in the road," he said.
Stewart said the accident hasn't changed his plan to retire after the season. "No, I'm not doing another season because this happened," he said. "I made my decision and that's it. ... I think this is just a missed deal with Daytona. You'll see us there next year, but in whole different roles."
3. CLASS ACT -- The Wood Brothers were incredibly gracious about the fact that the team wasn't granted a charter by NASCAR. Team president Eddie Wood said he was blown away by the fan support for the team, which this year will race full time for the first time since 2008.
"It is really overwhelming the amount of response we got on social media and phone calls and emails and things," Wood said. "All of our fans are supporting us. That really makes you feel good because you never really know what is out there until something triggers those guys to speak up. They have really been supporting us, and I just want to thank all of them. It is really amazing."
2. JUST SUPER -- Furniture Row Racing is the only NASCAR team based in Denver and the team has taken the Colorado city by storm, even in a year when the Denver Broncos won the Super Bowl. The team's driver, Martin Truex Jr. was recently voted the Colorado Athlete of the Year by Mile High Sports magazine, something Truex admitted, "came as a really big shock." Needless to say, it was a big deal for Truex and the team.
"I thought the coolest part was that we don't race in Denver -- there's no NASCAR track in Colorado," Truex said. "For those guys to recognize mostly our team for that accomplishment was really a big deal to me and I thought it was a huge honor. To beat out guys on the Broncos especially with the year they're having was kind of insane to me to think about when you look back and the awareness we kind of raised there in Denver about NASCAR."
1. ON A MISSION -- Jimmie Johnson not only is a fitness fanatic; he's building a strong community of fitness fanatics in the NASCAR. Friday at Daytona International Speedway, Johnson launched the JJF Wellness Challenge, a series of three athletic events in the Metro Charlotte area. (Details at www.jjfwellnesschallenge.org).
"I'm here to challenge you," Johnson told the media members at Daytona International Speedway. "I want everybody in this room to know if you want to get fit, you want to focus on wellness, I'm a resource. I'm here." How serious is Johnson about this? He's already helped a number of people in the garage, including Kurt Busch's crew chief, Tony Gibson. Johnson even has his own free fitness app called "Jimmie Johnson's Workout Challenge."