5 reasons why the the RG3 era in Washington was a failure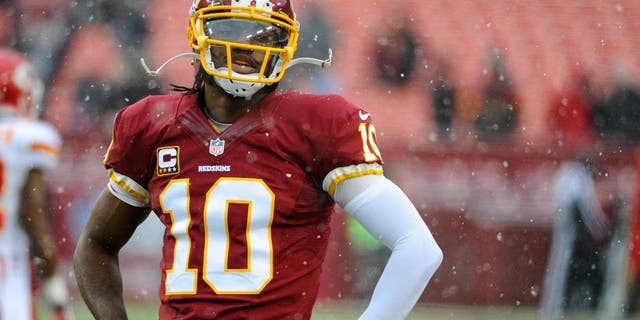 NEWYou can now listen to Fox News articles!
With over 4,000 combined passing and rushing yards, 27 combined touchdowns and just five interceptions, the Robert Griffin III era couldn't have gotten off to a better start in 2012. Then, a major knee injury in the 2012 postseason changed the course of his career. RG3 was never the same once he returned from injury, and he struggled to stay healthy. The Redskins eventually moved on to a new head coach, offensive scheme and general manager, but none of the changes revived RG3's career.
On Monday, RG3 cleaned out his locker and left the Redskins with a parting note. While he hasn't officially been released yet, RG3's contract option makes it highly unlikely that he will be back with the team in 2016. So where did it all go wrong for the player who looked like a surefire franchise quarterback in his rookie season? We take a look five factors that played a key role in RG3's demise.
1. Bringing in Jay Gruden
There's no denying that the Redskins needed to move on from Mike Shanahan when they did, and Gruden has certainly proven himself as an impressive offensive mind. However, Gruden's success stories have involved two pocket passers with good mechanics but underwhelming arm strength in Andy Dalton and Kirk Cousins. Gruden's scheme was never a fit for Griffin. After operating in a simplified offense at Baylor, RG3's breakout rookie season wasn't all that complicated under Shanahan. The offense featured the zone-read option and a heavy dosage of plays designed to the "X" wide receiver. Gruden brought in a complicated scheme, with a lot of personnel packages and different route combinations. RG3 was never able to make a smooth transition to an offense that never really made sense for him at this stage of his career.
2. Jordan Reed never staying healthy
Playing in a career-high 14 regular season games in 2015, Reed emerged as an elite threat at a position that doesn't have many player like him. Reed flashed major potential in his first two seasons with the team, but injuries limited him to just 20 games -- often times he was playing hurt. After cleaning up his diet and changing his offseason regimen, Reed racked up 87 receptions, 952 yards and 11 touchdowns with Cousins this season. Unfortunately for RG3, Reed's healthy breakout season came on year too late.
3. Alfred Morris disappearing from the offense
Morris was a staple for the Redskins during RG3's breakout 2012 season -- he compiled 1,610 yards and 13 touchdowns and 335 carries. Since, Morris has seen his yards, touchdowns, carries and yards per carry all drop significantly over the past three seasons. Morris was one of the NFL's elite runners during RG3's breakout, but he became an afterthought on offense as the Redskins moved away from Shanahan's offensive scheme.
4. Keeping Bruce Allen on as general manager
Allen deferred to Shanahan when he was still there, but even after he left, Allen's five year tenure as the Redskins' general manager was highlighted by very few correct decisions in the personnel department. Despite being advised by the NFL to not use the 2010 uncapped as a method to create cap room in the future, Allen did not heed the warnings. His decision to manipulate the uncapped season resulted in a $36 million salary cap penalty that was split between the 2012 and 2013 seasons. This penalty severely handicapped the Redskins and their ability to put together a strong roster around RG3.
5. Keeping Jim Haslett on as defensive coordinator
Haslett was brought on board by Shanahan when he arrived, and he lasted all the way through the 2014 season -- most Redskins fans would tell you that this was at least one season too long. When the offense was controlling the clock during RG3's rookie season, Haslett looked like a genius. As RG3 and the offense faded in subsequent seasons, Haslett's scheme was exposed. Over his final two seasons as coordinator, the Redskins field a near-historically bad pass defense. The Redskins' struggles to stop the big play put more pressure on RG3 to score fast, and it often landed him in games where he was caught playing catch up.
Dan Schneier covers the NFL for FOX Sports. You can find him on Twitter @DanSchneierNFL.