5 Reasons to Watch UFC Fight Night: Belfort vs. Henderson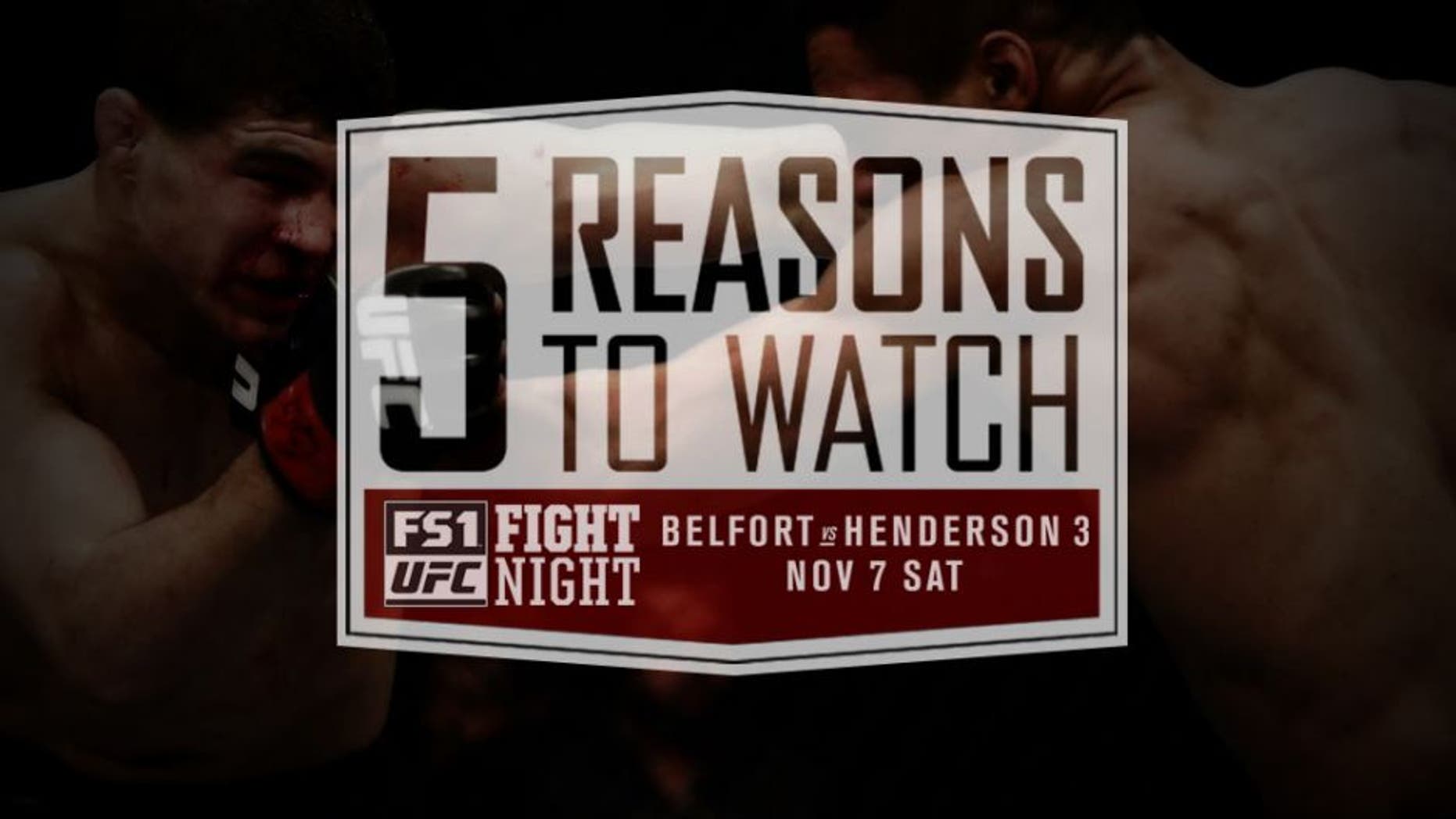 For the third and likely final time, Dan Henderson and Vitor Belfort will square off as the two legends look to settle a long-standing rivalry that stretches back to their first fight in 2006.
Belfort will look to duplicate his last fight against Henderson when he knocked out the 45-year-old middleweight with a flurry of punches and kicks early in the first round. To that point in his career, Henderson had never been knocked out before so he'll look for a taste of revenge when he faces the Brazilian on Saturday night.
Also on the card, Glover Teixeira will try to duplicate his last performance where he took out Ovince Saint-Preux as he takes on former NCAA wrestling championship runner-up Patrick Cummins, who returns to action after a stoppage victory in his previous fight against Rafael "Feijao" Cavalcante.
Undefeated bantamweight prospect Thomas Almeida will also fight on Saturday night as he takes on Anthony Birchak.
With six fights on the main card and a slew of veterans on the undercard, there are plenty of reasons to tune into this card. FOX UFC analyst Yves Edwards is going to break down some of the key elements and give five good reasons to watch FS1 UFC Fight Night: Belfort vs. Henderson.
BEGRUDGING RESPECT
NEW ORLEANS, LA - JUNE 06: Dan Henderson reacts to his victory over Tim Boetsch in their middleweight bout during the UFC Fight Night event at Smoothie King Center on June 6, 2015 in New Orleans, Louisiana. (Photo by Stacy Revere/ Zuffa LLC/Zuffa LLC via Getty Images) Stacy Revere/ Zuffa LLC
Henderson has twice faced Belfort with each result as lopsided as the other.
Henderson trampled Belfort in their first fight with a unanimous decision win. In their last fight, it was Belfort who got the upper hand with a thunderous finish early in the first round as he became the first fighter in history to land a knockout on Henderson.
As the two fighters get ready for a third and final fight, Henderson has a lot to prove after his last performance against Belfort and this aged legend is looking for payback.
"It's a big fight. I think it's a big fight for them personally," Edwards said. "Both these guys have been around and fought everywhere. They don't really like each other. I think they respect each other as far as 'I respect that man as a fighter but I don't like him and f--k him I want to take his head off.' They want to win so the only thing left is to say 'I have two wins over you so we're done.' I think that's the biggest thing for them in this fight.
"Dan Henderson is not the kind of guy you want coming after you when he's angry. When he feels malevolent at heart. Fortunately, Vitor Belfort is Vitor Belfort so he has the skills to protect himself, but when Dan Henderson calls you out that's a big deal. I think Dan is coming in there with passion and fire and he knows the window is closing. As he's on his way to the finish line, getting a win over Vitor is a big deal."
DON'T BLINK
JARAGUA DO SUL, BRAZIL - MAY 18: (L-R) Vitor Belfort knocks out Luke Rockhold with a spinning heel kick in their middleweight bout during the UFC on FX event on May 18, 2013 at Arena Jaragua in Jaragua do Sul, Santa Catarina, Brazil. (Photo by Josh Hedges/Zuffa LLC/Zuffa LLC via Getty Images) Josh Hedges/Zuffa LLC Zuffa LLC
Belfort has consistently been one of the biggest finishers in UFC history with 13 stoppages during his career, putting him just one shy of tying the all-time record held by former UFC middleweight champion Anderson Silva. But where Belfort truly excels is with explosive finishes in the first round.
Belfort has 12 first-round stoppages to his credit, which is the most in UFC history. Couple that with 11 career knockouts (just one behind Silva for another all-time record) and you can see just how dangerous this Brazilian can be in the first few minutes of a fight.
Belfort is ultra-creative as well as he showed during the three-fight win streak that earned him a middleweight title shot. Belfort uncorked a spinning back-kick that floored current middleweight title contender Luke Rockhold, and he blasted both Henderson and Michael Bisping with rocket-fire-like head kicks to finish both of those fights as well.
Belfort is one of the best closers to compete in MMA and if he's on point early in this fight, the main event could be over in a blink of an eye.
STILL A THREAT
NASHVILLE, TN - AUGUST 08: (R-L) Glover Teixeira of Brazil punches Ovince Saint Preux in their light heavyweight bout during the UFC Fight Night event at Bridgestone Arena on August 8, 2015 in Nashville, Tennessee. (Photo by Josh Hedges/Zuffa LLC/Zuffa LLC via Getty Images) Josh Hedges/Zuffa LLC
Teixeira has been ranked in the top five for a big part of his UFC career, but after back-to-back losses it seemed like he fell off everybody's radar when discussing the best fighters in the world at 205 pounds.
Teixeira proved that he was still an elite light heavyweight with his last fight as he put a show in his one-sided performance to beat Saint-Preux in August.
Teixeira has consistently been a top performer in the UFC and Edwards says two tough losses against elite light heavyweights is no reason to believe this former title challenger can't get back to another shot at the belt. His next mission? Beating Cummins this weekend.
"He had a couple of tough losses to who? Jon Jones and Phil Davis," Edwards said. "Jon Jones is the best in the world to this day and then there's Phil Davis, [who] is one of the best in the world. His wrestling was able to put Glover down, put that pressure on him and wear him out. I think Glover wants to prove to everybody that the Phil Davis fight isn't proof of who he is as a fighter. He just lost that particular night.
"I talked to Glover and he told me his weight cut wasn't a great thing for that fight. He probably shouldn't have fought but Glover's a fighter and he's not going to back down."
Teixeira could be positioned for a fight against any number of opponents in the top five of the division with a win, and he'll look to put on a similar performance as his last outing when he meets Cummins on Saturday night.
THE GAME CHANGER
As the bantamweight divisions prepares for a huge title fight in January when T.J. Dillashaw takes on Dominick Cruz, another potential challenger for the gold will fight in the UFC this weekend as Almeida will try to move his record to 20-0 with a win over Birchak.
Almeida is one of the most devastating strikers in the division with a ton of power in his punches and kicks. He's dusted off two of his first three UFC opponents by strikes with neither bout going past the second round.
Almeida loves to surprise his opponents with blitzing combinations, and he'll toss in flying knees to try and catch them off guard so Birchak has to be ready for everything in this one.
"I think he is the real deal. Thomas Almeida's legit," Edwards said about the 24-year-old Brazilian. "I have a lot of admiration for that kid, being as young as he is, undefeated 19-0. Every time he goes out there he looks just as good as the last time and mostly he looks better. He's one of the guys that's going to change the game.
"He's a Jon Jones type, a Chris Weidman, a TJ Dillashaw type -- the guys that are constantly improving. Anthony Birchak is really though and he's got wrestling to bring to the table and that's the question I have about him. How is he going to deal with a wrestler? That's the question I have."
That's big praise coming from a veteran like Edwards and with a win this weekend over Birchak, Almeida will likely toss his name in the hat for a top-five opponent in 2016.
A LOADED CARD
While there are always intriguing matchups every time the UFC ventures to Brazil, the card coming up this weekend is absolutely loaded from the first fight of the night on UFC Fight Pass all the way through the main event.
On the undercard, a pair of flyweight prospects meet when Pedro Munhoz takes on 17-1 Jimmie Rivera in a fight that could be a show stealer.
On the FS1 prelims, perennial favorite Clay Guida will get back in action as he faces Thiago Tavares, while explosive lightweights Johnny Case and Yan Cabrall also square off.
The first three fights on the main card also offer a look at some of the best up-and-comers in the UFC, with submission specialist Gilbert Burns taking on Rashid Magomedov as well as Alex Oliveira looking for another big win as he takes on veteran Piotr Hallman.
In other words, start with the first fight of the night and then stick around because this card won't stop until the last punch is thrown.
"I want to see Abel Trujillo/Gleison Tibau fight. Trujillo and his style make for a great clash," Edwards said. "Piotr Hallman and Alex Oliveira should be a good fight. I've shared the cage with Piotr Hallman and I haven't trained with him but Alex Oliveira's been down at ATT (American Top Team) and I talked to Din Thomas and he's telling me that guy is strong, he's as strong as Tibau! I want to see how that plays out.
"Rashid Magomedov and Gilbert Burns, that's a good fight. There's a lot of hype around both of those guys."
Don't miss a minute of the action for UFC Fight Night: Belfort vs. Henderson with our schedule and viewing guide.