5 Reasons to Watch: UFC 191: Johnson vs. Dodson 2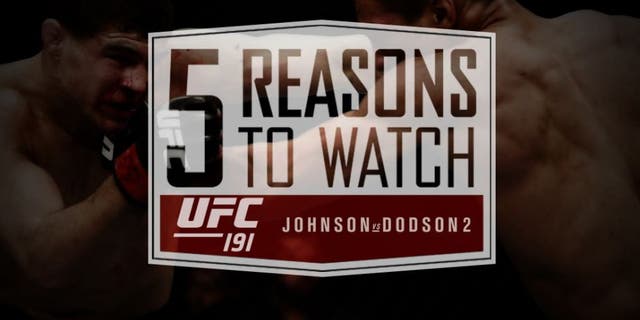 NEWYou can now listen to Fox News articles!
Demetrious Johnson goes for his seventh straight title defense this weekend in Las Vegas while John Dodson looks to avenge his previous loss to the champion in a main event rematch at UFC 191.
Dodson came closer than any fighter on the UFC roster to taking the belt away from Johnson, and he's determined to get the job done this time around.
In addition to the title fight main event, two UFC legends will go to battle in the co-main event as former champions Andrei Arlovski and Frank Mir face off in a pivotal matchup in the heavyweight division.
Arlovski has been on a tear lately with three straight wins, including his "Fight of the Night" performance against Travis Browne in May, while Mir has picked up two consecutive knockouts victories over Antonio "Bigfoot" Silva and Todd Duffee.
UFC 191 also features the return of Anthony "Rumble" Johnson as well as rising strawweight star Paige VanZant.
FOX UFC analyst Yves Edwards joins us this week to break down some of the key matchups and gives you five good reasons to make sure you watch UFC 191: Dodson vs. Johnson 2 this weekend!
Don't Miss Greatness
UFC flyweight champion Demetrious Johnson may not say the things you want him to say and he isn't a hulking giant walking around at 6-foot-3 and weighing 250 pounds, but he might be one of the top pound-for-pound fighters on the planet, and that kind of talent should never be ignored.
Johnson has grown tired of the questions about why he doesn't trash talk more or why more fans aren't interested in watching his fights. He's much more interested in winning his seventh straight title defense and continuing to cement himself as one of the greatest UFC champions in history.
With a win on Saturday night, Johnson will only stand three fights away from tying Anderson Silva's all-time title defense streak and considering the blistering pace he keeps, there's little doubt "Mighty Mouse" could get there.
He may not build up his fights the way Conor McGregor does, and Johnson won't attract the masses like Ronda Rousey no matter who she's facing. But what Johnson does -- and possibly does better than anyone else on the roster -- is fight.
"That's a completely different level of skill that guy is on. It's one of those things where I don't how you translate that and make the public understand that -- this guy is one of the most incredible fighters on the planet," Edwards said about Johnson.
"As champion you're fighting the best guys in the world. Guys that earn title shots have to go out and dominate guys. Especially in the climate where MMA is today, the way it is you get your title shots by domination. You don't get title shots by Jon Fitch-ing guys and getting decisions and grinding them out. DJ is still stopping these guys, and I would put him on that list for best pound-for-pound fighters. He deserves to be in that conversation I think."
No One Man Should Have All That Power
John Dodson gets his second crack at Demetrious Johnson after falling short in their first matchup in 2013. Dodson remains the only fighter in the flyweight division to drop Johnson with a punch, and he hopes to follow that up with an encore this weekend.
Dodson has the power to back up his prediction to knockout Johnson this weekend, and it's been proven throughout his UFC career.
Dodson has four knockout or TKO finishes in his six UFC wins and holds the highest knockdown rate for any fighter in the flyweight division. He averages 1.3 knockdowns per 15 minutes in the Octagon, and he's hoping to add onto that total when he faces Johnson on Saturday night.
If there's a criticism about the flyweights not being as big and not packing as much power, Dodson defies those statements by packing a serious punch in every single one of his fights.
And when it comes to contenders in the flyweight division, Dodson may be the last line of defense the 125 pounders have against Johnson's reign of terror over the weight class.
Old School, New School
No one probably imagined when Andrei Arlovski and Frank Mir were first set to meet all the way back in 2004 that it would take more than a decade for the two former UFC champions to finally meet, but they will face off in the co-main event on Saturday night.
Arlovski and Mir had to endure plenty of success and failure before finally getting to the point where they are at going into UFC 191. A few years back it would have seemed like this was a fight to send them both into retirement, but now Arlovski and Mir are thriving in the heavyweight division with title contention not all that far away.
Arlovski is currently ranked No. 4 in the world after back-to-back knockouts while Mir has rejuvenated his career with two huge wins in 2015 while climbing into the top 10 again.
Edwards actually fought on some early UFC cards with both Arlovski and Mir and following his own retirement recently, he admits he's a little envious to see two old school fighters still tearing through the top 10 today.
"If I was a hater, I'd be a little bit jealous because it's like 'these guys are still doing this at that level?'," Edwards joked. "These are two former heavyweight champions and they are from the dark ages of MMA, but when you look at what they are doing to the guys of this era -- Todd Duffee just got stopped by Frank Mir, Travis Browne just got stopped by Andrei Arlovski. These are elite guys and heavyweight champions in 2004 and 2005, and that was a long time ago.
"These guys are still out there and they are still putting it on the line. I'm really excited to see this fight. I don't know how it's going to play out, but I know I'm looking forward to seeing it. These are the guys who helped pioneer MMA."
Super Bowl Hangover?
It's a well-known legend in the NFL that the team who doesn't win the Super Bowl, falls short the following year, many times tumbling all the way to a losing record. For some athletes or teams, nearly reaching the pinnacle, falling short and then trying to recapture that same spirit is close to impossible.
The same could be said in MMA, where title fights are rare and often times when someone falls short, they never get back to the gold again.
Anthony "Rumble" Johnson hopes to prove otherwise in his first fight back after losing in his first-ever UFC title fight this past May, when he was submitted by current champion Daniel Cormier. Johnson has been a ferocious knockout artist ever since coming back to the UFC, but this will be his first chance to rebound from a loss.
Johnson is still firmly planted in the top contender's position in the division and he has to know a second shot at Cormier could await him in 2016, but to get there he has to vanquish Jimi Manuwa at UFC 191 this weekend.
"This is a big fight for Anthony Johnson. A lot of guys fight for the title, lost that title bid and then kind of disappear. It happens to a lot of guys," Edwards said. "But you get guys like Johny Hendricks and Robbie Lawler who lose and come right back and win the title. This fight is a telling point for Anthony Johnson. Jimi Manuwa is nobody's clown and this is a tough fight.
"This is definitely going to be a test for Anthony Johnson and if he can pass the test that will tell us if this guy is truly going to come back and challenge for the title."
Paige-turner
UFC 191 will also feature the return of highly touted strawweight prospect Paige VanZant as she looks for her third win since joining the promotion last year.
VanZant is a fast-rising star and one of the faces of the 115-pound division and this weekend she faces off with "Ultimate Fighter" veteran Alex Chambers. Funny enough, VanZant was supposed to be on the same season of the show with Chambers, but she was too young to qualify for the age cut off to compete.
So now VanZant will get her chance while also taking another step forward in the division.
Edwards sees a lot of talent in the 21-year-old fighter and says a year from now he doesn't see any reason why she couldn't be competing for the UFC strawweight title against champion Joanna Jedrzejczyk.
"She belongs here. She showed that in her first UFC fight in Austin, and she has only gotten better since then. She's a big name in that weight class. There's not a lot of stars in that weight class just yet and Paige is probably the biggest," Edwards commented.
"I think she's going to help build that division. I think she could be fighting Joanna Jedrzejczyk a year from now. She can compete with her now but it might be too much for her right now. Those two women, that fight is a headliner a year from now. Those women will help do what Ronda did for the 135 pounders."