5 fighters who need to compete at UFC debut in New York City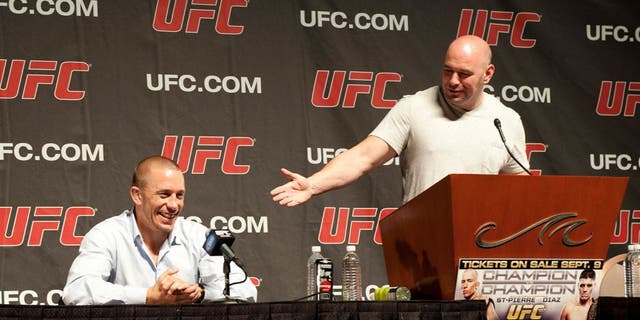 Professional mixed martial arts is legal in New York again (yay!), following a vote from the New York State Assembly signaling the return of the sport to the state for the first time since 1997.
The UFC has been working on getting the statewide ban lifted for nearly 20 years, and now the organization has the greenlight, all signs point to the promotion holding a monumental event in the state later this year. The UFC has even gone as far as to pledge at least four events in the state every year for the next three years.
Any commitment that big needs to get off to a strong start, so here are five fighters (okay, seven) we'd love to see on the UFC's return to New York, and presumable debut in New York City.
Jon Jones
Pound-for-pound UFC great Jon Jones is a phenomenal choice to headline any card, so putting his name in the marquee for an event in his home state should be a no-brainer. Jones, who hails from Rochester, is one of the promotion's most recognizable fighters, and other than his DQ against Matt Hamill has never lost under the UFC banner.
Jones has a rematch with current light-heavyweight champion and bona-fide rival Daniel Cormier scheduled for UFC 197 on April 23. But after that, he should be free for either the beginning of his latest run as champion, or a potential third fight with Cormier.
Either way, Jon Jones vs. anyone sounds like a great start to UFC on New York.
Chris Weidman and Long Island's finest
Chris Weidman has arguably been the most vocal proponent of legalizing MMA in New York on the entire UFC roster. The former middleweight champ has met with assembly members and constantly drew awareness to the bill on his social media pages.
So it's only fitting that the Hofstra alum hold down a spot on the state's first UFC event in more than 20 years.
And we can't forget about Weidman's Team Serra-Longo teammates Al Iaquinta, who live tweeted Tuesday's assembly meeting, and Aljamain Sterling, who showed how truly excited he was in a video Weidman posted shortly after the bill was passed.
Weidman, Sterling and Iaquinta also sit in the top 11 of each of their respective divisions, so fans would be in for an entertaining night if all three of these guys made it on the UFC's first event in NYC.
Georges St-Pierre
An event at New York's Madison Square Garden could be significant enough and profitable enough to lure one of the UFC's biggest draws ever, Georges St-Pierre, out of retirement.
An additional kicker? The Canadian cities of Quebec and Montreal are just short plan rides from New York ... and we know what it looks like when GSP fights anywhere close to New York.
St-Pierre is a huge star in the U.S. and Canada, so he could headline the event and the card would still do numbers.
But selling tickets and PPVs isn't the hard part -- getting GSP to come back is. Madison Square Garden might just turn that "maybe" into a "yes."
Frankie Edgar
Could you imagine featherweight champion Conor McGregor defending his belt against New Jersey-native Frankie Edgar on a card at Madison Square Garden? That idea isn't so far-fetched now that the sport is legal.
And if you're wondering why McGregor would give Edgar a virtual home game by fighting in New York, let's not forget the Irishman has said he'd prefer to fight on the East Coast to make the trip easier for his hometown fans.
Edgar would likely welcome that fight, and the crowd would undoubtedly go crazy when both Edgar and McGregor entered the arena to Notorious B.I.G.
Given that UFC CEO Lorenzo Ferititta has promised a epic event, it's likely we'll get both Edgar and McGregor, even if they aren't fighting each other.
Rashad Evans
Former light-heavyweight champion Rashad Evans is better known for his time in Florida with the Blackzilians but like Weidman, the Niagara Falls native has been a staunch proponent of legalizing the sport in New York.
After 24 professional fights and more than 13 years in the game, Evans' career is slowly beginning to wind down. There's probably few things he'd enjoy more than duking it out in front of his friends and family in New York before he eventually hangs up his gloves.
Did we miss anyone? Tell us in the comments section who you'd like to see fight on the UFC's first card in New York.