5 drivers who could still be tapped to replace Tony Stewart at Daytona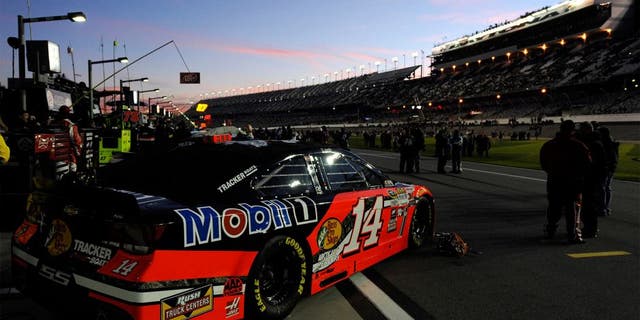 With the news that Reed Sorensen and David Gilliland have both landed rides for the Daytona 500, two drivers on the shortlist of possible replacements for Tony Stewart at Daytona are no longer in the running.
Stewart-Haas Racing announced Wednesday that it will name a Daytona replacement for Stewart in a press conference on Friday morning at the track.

Here are five drivers who remain potential candidates:
1. Sam Hornish Jr.
A veteran of 167 Sprint Cup Series starts, Hornish might be SHR's best option. The former IndyCar champion and Indy 500 winner spent last year at Richard Petty Motorsports, where he was let go after just one season due in large part to lack of sponsorship. While Hornish hasn't enjoyed much success at the Sprint Cup level, he's proven capable on the stock-car side, having won three XFINITY Series races and finished second in XFINITY points to Austin Dillon in 2013.
2. Regan Smith
Sure, Smith missed just signed with Tommy Baldwin Racing for the 2016 Sprint Cup season, but it's hard to believe the low-budget organization wouldn't allow Smith to step over into Stewart's car for the sport's biggest race. It also helps that both teams field Chevrolets. Smith is a proven sub, having filled in for Stewart, Stewart-Haas Racing's Kurt Busch and Hendrick Motorsports' Dale Earnhardt Jr. in recent years.
3. Elliott Sadler
A three-time Sprint Cup Series race winner who has experience in a substitute role, Sadler is plenty capable of taking over the No. 14 for Speedweeks. While he has a full-time XFINITY Series program this year with JR Motorsports, Sadler would still be available to drive the No. 14 -- especially given the fact this his new boss, Dale Earnhardt Jr., recently said on Twitter that any JR Motorsports driver "would be happy to do it." Sadler nearly won the 2009 Daytona 500, leading 24 laps in the late going before sliding to fifth.
4. Alex Bowman
Then there's Bowman, the 22-year-old driver who Smith recently replaced at Tommy Baldwin Racing. Although Bowman doesn't boast nearly as much seat time as Hornish, Sadler or Smith, he's toiled the last two seasons in NASCAR's top series in subpar equipment. Bowman recently used Twitter to express an interest in driving the No. 14, so it's safe to assume he would jump at the opportunity.
5. Brett Moffitt
Like Bowman, Moffitt recently made it known on Twitter that he would be plenty interested in driving the No. 14 car if given the opportunity. Moffitt, 23, has made 38 Cup starts over the past two years, most memorably at Atlanta Motor Speedway last March when he finished eighth while subbing for Brian Vickers in Michael Waltrip Racing's No. 55 Toyota.