5 drivers who can win at Michigan International Speedway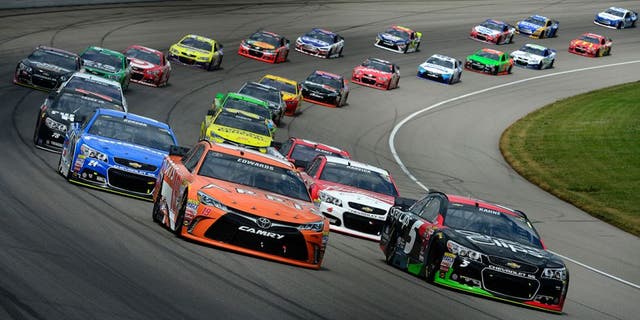 NEWYou can now listen to Fox News articles!
The NASCAR Sprint Cup Series heads to the Irish Hills for Sunday's FireKeepers Casino 400 at Michigan International Speedway (FS1, 11:30 a.m. ET).
Here are five of the favorites to win the first of two races at MIS:
5. Chase Elliott -- He has been knocking on the door to grab his first NASCAR Sprint Cup Series victory all season. Elliott led the most laps at Pocono, capping it off with a fourth-place finish. It might be going out on a limb to pick a rookie to win on Sunday, but Elliott isn't your average rookie.
4. Kurt Busch -- Last year, Busch won this race, which was rain-shortened. He also sits second in the standings, which is a testament to his consistency throughout the season. Coming off his first win of the year at Pocono, he will have crew chief Tony Gibson back after a one-race suspension. And, he's now locked into the Chase. Maybe he can make it two in a row on Sunday.
3. Dale Earnhardt Jr. -- Junior admitted that he let the win slip away after finishing second at Pocono. He has two wins at Michigan, with the last one coming in 2012. Dale Jr. also said he's looking forward to this Sunday's race because he feels like they will run well. Possibly well enough to roll into Victory Lane.
2. Brad Keselowski -- With a few more laps, he felt like he could have challenged Kurt Busch for the win at Pocono. Instead, he finished a solid third. Team Penske is starting to catch up with the speed of Joe Gibbs Racing and Toyota, which will come in handy at a 2-mile oval. Keselowski has never won at his home track, but that could all change on Sunday.
1. Martin Truex Jr. --" After stomping the field at Charlotte, Truex Jr. could have had another strong run at Pocono if it was for contact with Matt DiBenedetto on pit road early in the race, resulting in a 19th-place finish. He finished third in both races at Michigan last season. Look for him to bring Toyota back to the front after Monday's struggles.