5 Coyotes who must shine this season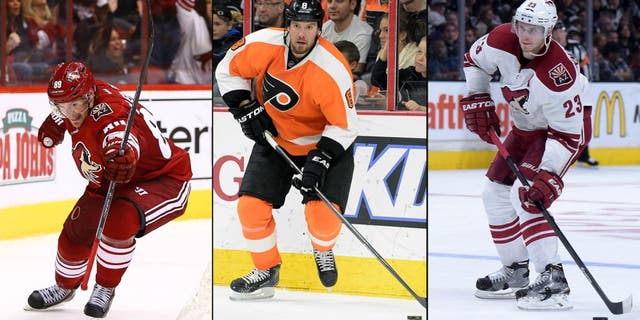 GLENDALE, Ariz. -- Coyotes coach Dave Tippett likes the character and compete level of his team after the offseason additions of defenseman Nicklas Grossmann and forwards Boyd Gordon, Brad Richardson and Steve Downie.
Coyotes fans are happy that popular players Antoine Vermette and Zbynek Michalek are back in the fold after a four-month hiatus to chase the Stanley Cup.
Promising prospects Max Domi and Anthony Duclair appear poised to make the roster this season, and Mike Smith will have his longtime goalie coach, Jon Elkin, by his side 18-20 days per month.
It all looks promising until you remember the Coyotes play in the Western Conference, where 11 teams finished with 90 points or better and most of the West's non-playoff teams have improved significantly since last season.
Edmonton drafted Connor McDavid and signed defenseman Andrej Sekera. Dallas acquired forward Patrick Sharp and signed defenseman Johnny Oduya and goalie Antti Niemi. San Jose signed forward Joel Ward and defenseman Paul Martin. Colorado signed forward Carl Soderberg and defenseman Francois Beauchemin. And the L.A. Kings added forward Milan Lucic.
Arizona finished 44 points off the playoff pace last season. Is it realistic to believe the Coyotes can compete for a playoff spot in this brutal conference with their current roster?
"That's the goal," Tippett said succinctly. "We may add a couple more pieces before we're set, but I like our group now. We've added some elements we were missing."
The Coyotes' point total will no doubt improve this season, and the on-ice product should look far more compelling, but in order to contend for a playoff spot in the West, they will need major contributions from several individuals. Here are our top five.
Goalie Mike Smith
Nothing has changed here. The Coyotes have been saying for five seasons that Smith needs to be a top-10 goaltender for them to have a chance. The difference this year is that the team should defend better in front of Smith. While Smith shared plenty of blame for his poor numbers last season (career-high 3.16 goals against average, .904 save percentage), the Coyotes were a train wreck of turnovers, poor defensive-zone coverage and soft play in front of him.
Grossmann's addition was one Tippett had been eyeing for two seasons. If the Coyotes can manage to find a right-handed defenseman to play with Oliver Ekman-Larsson (they thought they had a deal for Dougie Hamilton) in free agency or via a trade, that would allow Zbynek Michalek to shift to the third pairing and solidify the blue line corps with a better mix of veterans and youth.
Regardless, Smith has to open the season with the same type of game and unflappable attitude he displayed late in the season when he posted save percentages over .930 in 10 of the team's final 16 games.
Defenseman Oliver Ekman-Larsson
Ekman-Larsson is already one of the NHL's best defensemen. His skating, passing and scoring make him an elite offensive threat, while his decision-making and defensive-zone coverage improved significantly as last season progressed.
It will be difficult for him to jump into the Norris Trophy discussion until the Coyotes' forwards start scoring more to give him assist opportunities, but it is vital that Ekman-Larsson achieves a level of consistency that makes him the best Coyote on the ice most nights. Regression is no longer tolerable.
Right wing Mikkel Boedker
A splenectomy in January ended what was shaping up to be Boedker's best season as a pro. That misfortune played a role in him landing only a one-year deal.
It's proving time for Boedker -- not just because he can become an unrestricted free agent after this season, but because he must prove he can become a consistent 20-goal scorer. That's a reasonable expectation from the eighth overall pick in the 2008 draft.
If he gets off to a good start, the Coyotes may look to lock him up long-term when the two sides can begin negotiating again in January.
Defenseman Nicklas Grossmann
Grossmann has his share of critics, who point to his subpar advanced stats as evidence, but Tippett likes the stability Grossmann brings to the blue line, he likes his hard play and he likes the idea of Grossmann, a universally lauded locker-room guy, mentoring fellow Swedes Ekman-Larsson and Klas Dahlbeck.
Arizona has needed a steadying hand on its back end for two seasons. The gradual losses of veterans Adrian Aucoin, Michal Rozsival, Derek Morris and Rusty Klesla left the Coyotes in the hands of a blue line corps too young and too easy to play against.
Grossmann's role is clear. He had better fill it.
Coach Dave Tippett
Tippett still doesn't have the top-end talent he needs to contend, so expectations should be tempered. He did, however, get some character guys he wanted this offseason to raise the compete level up and down his lineup.
Tippett preaches accountability, and he never shies away from it. With enough pieces in place and maybe another one or two on the way, the former Jack Adams Trophy winner needs to reprise his miracle-working days if he is to maintain his status as one of the NHL's top coaching minds.
Follow Craig Morgan on Twitter