49ers unimpressed by Seahawks' QB?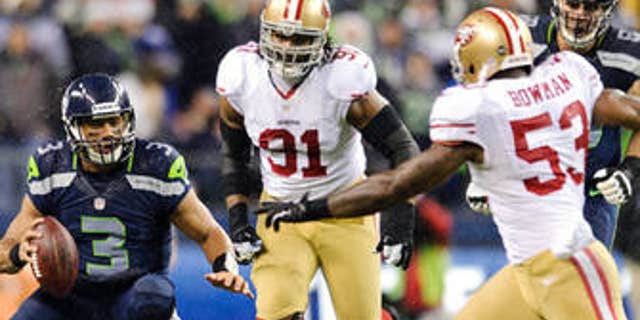 SANTA CLARA, Calif. – Russell Wilson threw only 10 interceptions in 16 regular-season games as a rookie, a few of them the result of a hit as he threw, a slipping wide receiver or a pass off the hands of his target.
But whereas many see the Seattle Seahawks' quarterback as one of the better caretakers of the football, Donte' Whitner sees a guy who gives the defense a chance to make a play.
"He does," the San Francisco 49ers safety told FOX Sports this week, following a practice in preparation for Sunday night's NFC West rivalry game between the teams. "Whenever you play that style of football where you're running around and some guys get open sometimes by (Wilson) running, you'll give (defenders) some opportunities."
Though the Seahawks' defenders have been careful to say all the right things about 49ers quarterback Colin Kaepernick this week - "When you have a guy like that, he will put you in a lot of great situations to win," Seattle safety Earl Thomas told Bay Area media - the ever-confident Whitner has a swagger befitting the defending NFC West and conference champs.
Whitner hasn't been shy in his assessment of Wilson, from his saying "through film study all week, we know where he wants to go with the football in every coverage" to noting the moments when Wilson takes some chances with the ball.
Case in point: what seemed like a terrific play Wilson made last Sunday in a victory against the Carolina Panthers.
On a third-and-8 late in the third quarter, Wilson started to escape to his right to avoid pressure but saw a lineman coming at him. He spun around to his left, only to find another oncoming rusher. Realizing he was about to get sandwiched by both players, an off-balance Wilson chucked the ball 30 yards in the air to the left sideline. Somehow, Doug Baldwin got to it before any of the three Panthers defenders in the area.
It was a Favre-ian type play. "An answered prayer," as FOX game analyst Tim Ryan called it with a chuckle while watching the replay during the broadcast.
To Whitner and his defensive teammates, it was an example of Russell being a bit careless with the football, something they believe he does often.
"It was an excellent play on the sideline (by Baldwin), but he still dropped back, ran around and just threw it to the sideline for anybody to get," Whitner said. "Those types of plays, when you see them as a defender, you have to take advantage of them."
Behind closed doors, the 49ers' defenders aren't bowled over by Seattle's offense, which features read-option looks, quick throws and an improvising Wilson scrambling around in his own backfield. Many of them believe it's a specialized scheme for specialized players, with one going so far as to say it's a "gimmick." (Funny, that's the same word Seahawks cornerback Richard Sherman used to describe the Patriots' up-tempo offense last year.)
The Niners' defense was less than impressed with the Seahawks' 12-point performance in Carolina. Wilson did a few pirouettes and threw some dangerous passes that could've been intercepted.
But the 49ers shouldn't be fooled. Gimmicky or not, risky passes or not and sluggish opening week or not, this offense can score in a hurry. Wilson is a playmaker, and even the Niners understand he's a completely different player at home (123.6 passer rating in his career) than on the road (87.2).
Sunday night's game will be at CenturyLink Field in Seattle, where Wilson threw four touchdowns in a 42-13 blowout of the 49ers in Week 16 last season. Even in that game, Wilson put a lot of air under some passes, including a 43-yard jump ball to Baldwin on his second pass of the game. It was probably more calculated of a risk than it looked, and Wilson clearly trusted his guy to make the play over their guy.
Baldwin made it; Carlos Rogers didn't.
Whitner knows the 49ers can't afford to not make those plays Sunday in the battle for the early lead in a competitive division.
"This is my fifth game against them, and we're 3-1, so if we can go ahead and take this game, we'll be 4-1 against them," Whitner said, adding of the three victories to only one loss: "Yeah, it gives you confidence. They got us one time up there. That's the one they'll remember, but we'll remember the other three."