49ers owner York: Kaepernick getting 'fresh start' under Kelly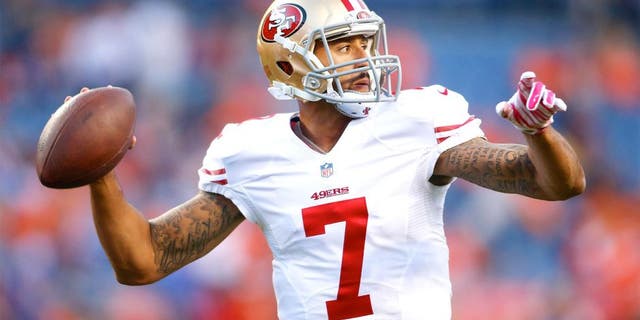 NEWYou can now listen to Fox News articles!
Don't be too quick to push Colin Kaepernick out the door with the San Francisco 49ers.
At least that's the message of team owner Jed York, who said during an appearance on the Rich Eisen Show on Thursday that Kaepernick still figures in San Francisco's plans under new coach Chip Kelly, calling it a "fresh start" for everybody.
"There's no question in my mind. I've always had a very, very high opinion of Kap," York said. "He's a great kid. He's done a lot of great things for us."
York made it clear that the decision on whether to retain Kaepernick or give him the chance regain his starting quarterback job is up to Kelly and his staff. But he also squashed the notion that San Francisco must make a decision by April 1, when Kaepernick's $11.9 million salary becomes guaranteed if he's on the roster.
"The nice thing is we've got the third-most salary cap room in the league," York said. "Everybody wants to make a big issue of, 'Well you need to make a decision on Colin, etc., etc.' We want Colin to get back healthy as soon as possible. We want to make sure that he's able to take the field whenever he's available."
Kaepernick suffered through an ineffective and injury-plagued fifth season with the 49ers. He was benched following a loss at St. Louis on Nov. 1 and placed on season-ending injured reserve three weeks later after a torn labrum was discovered in his left shoulder.
Earlier this month, Kaepernick had surgery for a torn ligament in his right thumb and also had a procedure on his left knee.